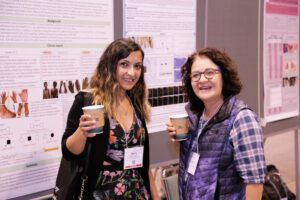 It's time to reconnect with your genetics and genomics community in sunny Los Angeles at the ASHG 2022 Annual Meeting, October 25-29! Get ready to greet old friends and new acquaintances live and in-person, dive into discussions in front of live posters, and check out the latest tools and technologies in the Exhibit Hall. Register today to present your research, exchange ideas, expand collaborations and advance your career! The schedule-at-a-glance and speaker line-up of invited sessions is now available.
ASHG's annual meeting is constantly evolving to meet the needs of attendees, and everyone can expect a safe and enjoyable experience at our meeting venue, the Los Angeles Convention Center. With summer planning at full throttle, the Society is exploring several new initiatives and networking and collaboration opportunities that will also include a Friday night networking reception to be planned at an off-site location within walking distance of the hotels and convention center.
But there is even more to look forward to at this year's first in-person meeting in three years! The 2022 Presidential Symposium will highlight the African genomics ecosystem, which has experienced tremendous growth in recent years and is generating new insights and the capacity to ask novel questions that will advance human health. This lecture will discuss Africa's major advances, new directions and goals, emerging scientific leadership, and exciting investments in technology infrastructure. Join your global community for an exciting dialogue!
The following are the scheduled speakers for this stimulating and thought-provoking session:
Moderator:
Charles Rotimi, PhD, ASHG President
Panelists:
Nicola Mulder, PhD, University of Cape Town; H3ABioNet, Cape Town, South Africa
Julie Makani, PhD, Muhimbili University of Health and Allied Sciences (MUHAS); Sickle Pan Africa Research Consortium (SPARCO), Dar es Salaam, Tanzania
Mayowa Owolabi, MD, H3Africa Stroke Investigative Research & Educational Network (SIREN), University of Ibadan, Ibadan, Nigeria
Christian Happi, PhD, African Centre of Excellence for Genomics of Infectious Disease, Ede, Nigeria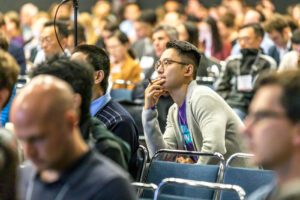 For anyone with an interest in expanding their horizons look no further than our annual Career Fair, where attendees can connect with exhibiting companies and universities that are actively hiring. Attendees can also take advantage of unique networking opportunities where they can share knowledge, gain advice, and draw inspiration from the experiences and outlooks of their global colleagues in so many ways.
ASHG 2022 will also again feature Inspiration Lounges which aim to create formal and informal opportunities for attendees to connect and discuss the meeting's exciting research while grabbing morning coffee, lunch, or an afternoon snack. Thought leaders will be scheduled each day around specific topics and sessions. Stop by to discuss what you learned and share innovations and ideas for bringing it to your home laboratories or clinics. The schedule will be available in early September.
Hosting ASHG 2022 in Los Angeles, a major epicenter of biomedical and life sciences, offers ASHG and its members an outstanding venue to engage important audiences of new scientific knowledge that is changing the way we diagnose and treat disease, understand human history, and unravel fundamental biologic mysteries. It also comes at a time when the biomedical and technology ecosystem in Los Angeles is experiencing unprecedented growth due to the launch of the Los Angeles Biomedical Research Institute at the Lundquist Institute (LA BioMed) and BioLabs, a network of shared lab facilities designed to manage all aspects of operations for high-potential, early-stage life science companies.
Join your colleagues this October and register now to strengthen old connections and forge new ones as we gather in Los Angeles to continue to advance the field together. Don't forget early bird registration closes on August 30.