Posted by: Nancy Sey, PhD, 2022-2023 ASHG/NHGRI Genetics Education and Engagement Fellow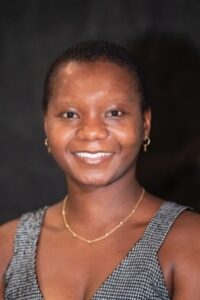 As an early career genetic scientist, I want to not only commit to producing ethical and responsible research but to continue to integrate and promote genetic literacy as a part of my career journey. To do this, I am continuously seeking out opportunities to enhance and broaden my skillset in improving genetic literacy within the public, therefore when I came across ASHG/NHGRI Genetics Education and Engagement Fellowship, I knew I had to apply.
My passion to help improve genetic literacy began when I joined my dissertation lab to perform post Genome Wide Association Studies (GWAS) analysis to understand the underlying mechanisms of psychiatric illnesses and substance use disorders. I learned how to perform hypothesis driven research to explain how the building blocks in our body interact with the environment to influence susceptibility to various diseases. As a result, I became even more captivated with how genetics and genomics shape our understanding of various human diseases and how dedication and perseverance can allow us to get closer to treating those diseases.
Additionally, I became intrigued with extending the knowledge I had gained in the lab to the public. This led me to participate in several enriching activities during my graduate training at the University of North Carolina at Chapel Hill (UNC-Chapel Hill). This included leading several outreach programs, such as the DNA Day Connect program–an extension of DNA Day at UNC-Chapel Hill that partners graduate students with local high schools for a school year. Graduate students are asked to engage high school students in a variety of science experiments and share career advice—this is where I developed skills like team management, relationship building, and effective communication. Importantly, my experience leading DNA Day at UNC-Chapel Hill solidified my decision to apply for the ASHG/NHGRI Genetics Education and Engagement Fellowship.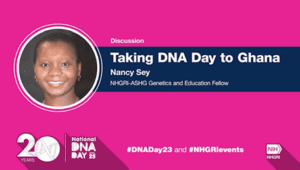 My fellowship term began with a 5-month rotation at the National Human Genome Research Institute (NHGRI). Here, I had the opportunity to work with and learn from a dedicated group of researchers and program officers.  My first couple of weeks were spent shadowing and learning about some of the projects happening within the Institutes' Education and Community Involvement Branch, before settling on two main projects.
My first project involved setting up a program for the Short Course in Genomics alumni. The Short Course program offers educators from different education levels – middle, high school, and community college around the country – the opportunity to learn about some of the advancements made in genetics and genomics from members of the National Institutes of Health (NIH). During my time at NHGRI, I worked with a colleague to develop an extension of the program to bring alumni together to work on independent science projects that relate to their specific communities and interest to continue to foster relationship among the Short Course alumni.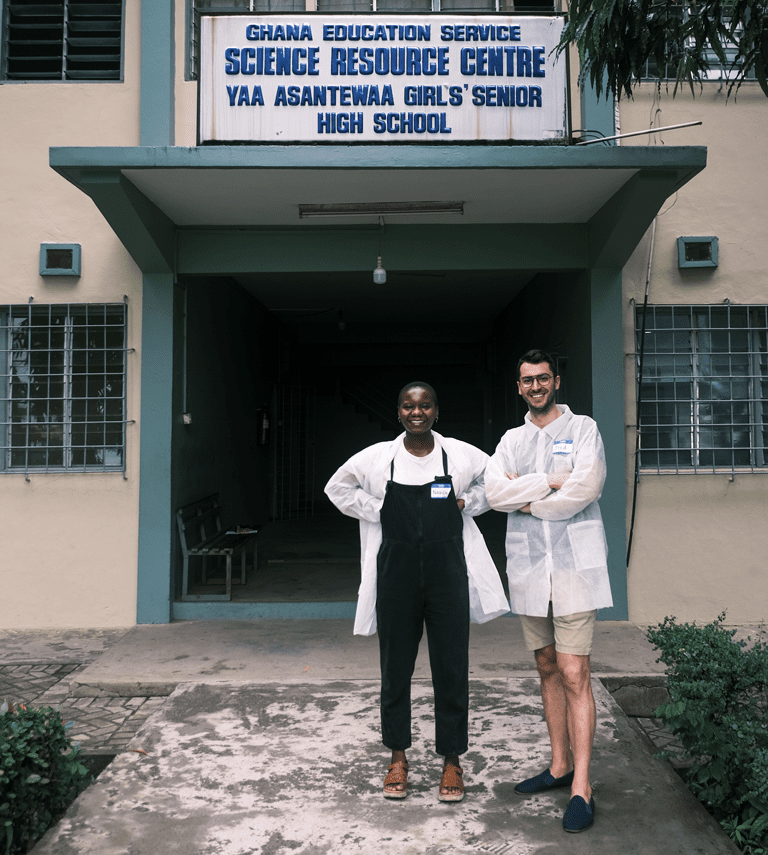 My second project at NHGRI provided me the opportunity to extend DNA Day 20th anniversary celebrations to high school students in Ghana. This project had many moving parts including selecting schools to visit, communicating with school officials about the nature of my visit, shipping required resources, and hosting two colleagues to assist me in the execution of the program. In the end, I visited three schools to share my love of science and to demonstrate various activities with the students. I shared my career path and taught basic neurobiology at the first school. I then engaged students at the next two schools in activities that included practicing how to properly use a micropipette, how to extract DNA from saliva, a lecture on gel electrophoresis, and an activity on using DNA for forensic analysis. Additionally, I donated various lab materials that were solicited, as part of my trip. The students got the opportunity to engage and ask career path questions. Seeing the adoring faces of the students as they put on their lab coats and goggles reminded me why it's so important to make science accessible to all. I also had the opportunity to present the program, at the NHGRI National DNA Day 20th Anniversary Symposium.
I recently began my 5- month rotation at ASHG and have already had the opportunity to be involved in lots of exciting projects. I assisted the Diversity, Equity, and Inclusion team in executing the inaugural Human Genetics Scholars Spring Meeting, where I interacted with a diverse group of amazing early-career scientists during three days of career development, community building, and networking events. Additionally, I had the opportunity to participate in ASHG's celebration of National DNA Day, which included serving as a judge for the 2023 DNA Day Essay Contest, where I got to read and score responses from high school students around the world. I also served as a panelist during the 2023 AskScience Reddit Panel where I answered community questions on ancestry and genealogy. I found this experience rewarding because it gave me the chance to interact with other science enthusiasts.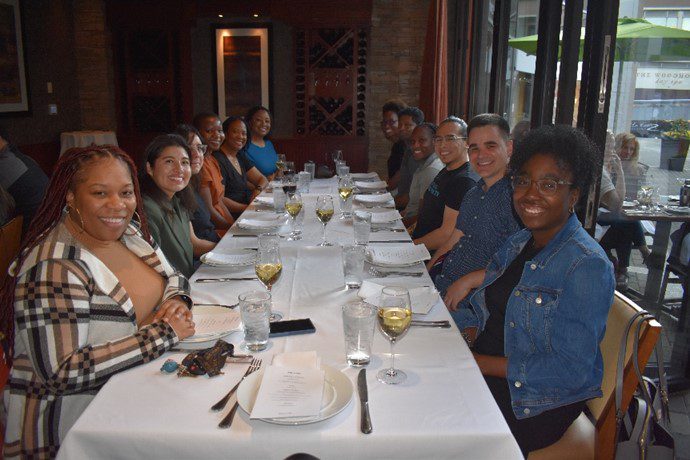 Overall, my first 6 months in the fellowship has been filled with wonderful experiences and has provided me with many opportunities to engage different communities in genetics education. At NHGRI, I got the chance to engage with teachers across the country as well as international classrooms in Ghana. Currently at ASHG, I have engaged with early career scientists, read essays from budding scientists through the annual essay contest, and answered questions from community members. I am optimistic that the remaining time in the fellowship will be equally exciting and offer me opportunities to further expand on the skills I have gained so far.