Posted by: Katy Brown, ASHG Career Specialist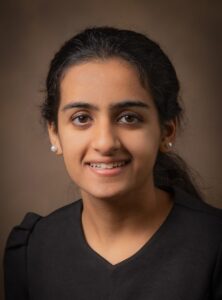 Kritika Singh, BS, PhD Candidate
Vanderbilt Genetic Institute, Vanderbilt University Medical Center
Singh K, et al. Integrative genomic analyses identify susceptibility genes underlying COVID-19 hospitalization. 2021 Nature Communications 12, 4569.
ASHG: Can you describe the type of research that has your primary focus?
Kritika: My overarching research goals focus on understanding the shared biology of various complex, comorbid conditions, particularly the comorbidities associated with various psychiatric conditions. I am currently involved in investigating the shared functional biology underlying the comorbidity between Depression and Coronary Artery Disease using genetic, genomics and EHR based tools.
ASHG: Throughout your life, what have been some of the biggest career goals that you have wanted to accomplish?
Kritika: My long-term goals are to work at the intersection of academia and industry to advance medical knowledge and understanding of complex diseases. In the coming years I would like to tap into the space of pharmacogenomic and imaging informatics as well.
ASHG: What are some of the reasons you chose to study genetics instead of anything else?
Kritika: Until 10th grade I had no idea about genetics but I got interested in this field because I enjoyed biology and mathematics. Back then I thought it was a pretty cool combination of both my favorite subjects ( and I've not looked back since then ). I would say though that this field has a lot of potential to provide screening tools and tests for various complex conditions,