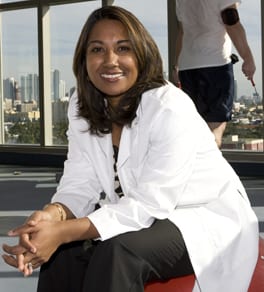 ASHG: What non-academic skills would you encourage trainees to develop to prepare for successfully running a lab? What specific skills have proved invaluable for you?
Dr. Rampersaud: Key to the success of any scientist, whether in academia or industry, will be the ability to interact both scientifically and socially with peers. Often times, ideas are vetted over dinner or at an informal event. These are key opportunities that young scientists in training should be able to anticipate and navigate.
Scientists are human, and as such, we are always sizing up the other person on a professional as well as human level. Liking someone as a person goes a long way. Competition is healthy and necessary in this field; however, do not underestimate the wealth of collaborations that can stem from honest, friendly, and mutually beneficial interactions.
Also, a key skill for any scientist is to develop some sort of organizational model. This will take you far in terms of meeting deadlines and keeping your head above water. As you proceed in your career you will be asked to do more and more. Having a good organization system in place will help you feel more in control.
ASHG: If you could go back to when you were a trainee, what is one piece of advice you would give yourself for your current career?
Dr. Rampersaud: Ask questions. Do not be afraid to be the 'stupid' one in the room. Chances are, others are also struggling with the same concept and afraid to ask.
Of course, first try to investigate on your own. Come to the table with some ideas of what you think the answer is. The person working with you will be much more inclined to help in this case.
Apply for meetings that allow you to also apply for travel grants. For example, the linkage courses taught at Rockefeller University often fund students to attend. Participate in GAW through the International Genetic Epidemiology Society or other activities through ASHG. You will be working with top researchers and developing relationships that may open doors for you down the road.
ASHG: What are your favorite and least favorite parts of your job?
Dr. Rampersaud: Favorite part: Learning something new almost every day, and gaining confidence in understanding biology and how to use statistical and bioinformatics tool to further this knowledge. Teaching and working with young scientists. At St. Jude, it is also personally rewarding for me to interact with children suffering from pediatric diseases.
Least favorite part: Navigating the administrative and political arena.
Want more interviews? Join the ASHG Trainee Forum to keep up with new ones!