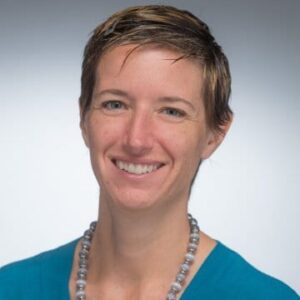 Director, MS in Patent Law and Certificate in Patent Prosecution
University of Notre Dame
ASHG: What non-scientific skills (communication, artistry, athleticism, etc.) are important for your job? Were any of these skills unexpected assets for you?
Dr. Deak: Written communication is HUGE in the field of patent law — you are emailing with attorneys and clients; and corresponding with the U.S. Patent Office in writing. You need to be precise with language. Period.
Also important is a real attention to detail, while juggling many projects (e.g., time management). Patent law is very deadline-driven, and dates can't be missed. So projects have to be done on time, no excuses.
Finally, a real knack for logic is helpful. The most important part of the patent is the claims, and there is a logic to how good claims are written.
ASHG: If you could go back to when you were a trainee, what is one piece of advice you would give yourself for your current career?
Dr. Deak: I would say to myself to stick it out, because a PhD in a life science field is very valuable in the practice of patent law — the PhD really does open doors for you. It proves that you're good at learning technology, which is really what the day-to-day of practicing patent law is all about. I'm glad I did finish my degree.
The other thing I would tell myself is that it's possible to leave the academy. People do it, very successfully, all the time, although it wasn't much spoken of at the place where I did my PhD work. If you're sure you want to get out, do it at a reasonable checkpoint — leave after your PhD (instead of slogging through a post-doc that you know you'll hate).
ASHG: Can you describe your transition from trainee to working professional? How did you land your first "real" job?
Dr. Deak: I landed my first real job by doing lots of hard work. I sent out around 100 resumes and cover letters, each tailored to the position I was applying for, and asked for lots of informational interviews.
I landed my job by combining those two efforts — the position I interviewed for was posted, so I applied to it; and by the time I sent in that application, I'd had so many informational interviews that I had a really good "story" about both my PhD work and why I wanted to make the transition into patent law. Leaving the academy can be scary, but it was the right move for me, at the time.
Want more interviews? Join the ASHG Trainee Forum to keep up with new ones!