Nascent Transcript Author: Allison McCague, PhD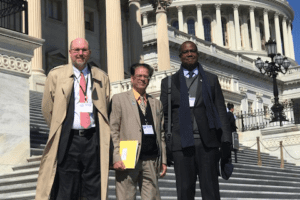 In June of 2019, H.R. 3235, the "Access to Genetic Counselor Services Act of 2019" was introduced in the House of Representatives. For the genetic counseling community, the passage of this legislation would represent a landmark achievement for access to genetic counseling services, but the bill has yet to move out of committee. Genetic counseling, as well as many genetic tests, are currently covered under Medicare and by private health insurers. However, genetic counselors are not currently recognized as healthcare providers by the U.S. Centers for Medicare and Medicaid Services (CMS) and therefore, unlike nurse practitioners and physicians that provide genetic counseling services, they are not reimbursed under Medicare. H.R. 3235 would authorize CMS to recognize certified genetic counselors as healthcare providers, allowing them to receive 85% of what physicians receive for providing genetic counseling services to Medicare patients. 
Genetic counselors are uniquely skilled professionals, who have advanced training in both medical genetics and counseling; genetic counselors are able to both interpret genetic test results and provide guidance and support for families navigating challenging situations. Many genetic counselors also serve in research roles, providing critical data to the medical genetics community in search of the best outcomes for patients with genetic disease. Lack of access to genetic counseling has been shown to have many negative downstream consequences, from misinterpretation of genetic tests to patients misunderstanding their genetic risk. As the access to genetic testing and genetic information has expanded in this new era of genomic medicine, the role of genetic counselors has become even more essential. 
The National Society of Genetic Counselors (NSGC) worked closely with legislators in crafting the bill and has demonstrated enthusiastic support of its passage. NSGC's letter of support has been co-signed by many organizations throughout the genetics community in industry, academia, and patient advocacy, including ASHG. When a version of the bill was introduced in the last Congressional session in 2018, David Nelson—then President of ASHG—wrote to the bill sponsors expressing ASHG's gratitude and support for the legislation. Amy Sturm—NSGC's President at the time of the bill's introduction in the 116th Congress—wrote a piece on ASHG's blog explaining the benefits of the legislation and encouraging ASHG members to support its passage.
However, the bill is not without opposition. Notably, the American College of Medical Genetics, withdrew its support for the bill in recent months. In a January 9 letter ACMG President, Anthony R. Gregg, M.D., M.B.A., and ACMG CEO Maximilian Muenke, M.D., wrote: "the ACMG cannot support any policies that would permit genetic counselors to practice medicine." ACMG cites concerns that the bill as currently written would allow genetic counselors to perform duties such as ordering lab tests, which the organization believes falls outside of the scope of their profession and enters into the scope of "practicing medicine." 
However, genetic counselors fear that perpetuating the requirement for the involvement of a physician for coverage of genetic counseling services under Medicare not only raises barriers to access, it minimizes the essential role of genetic counselors. Many physicians are not adequately trained in genetics. Studies have shown that the majority of physicians rate their knowledge of genetics as very or somewhat poor and do not feel comfortable interpreting the results of a genetic test. This can result in inappropriate test orders, misinterpretation of results, and other errors, which can be costly. Independent analyses from NSGC found that the involvement of genetic counselors in test selection results in billions of dollars in Medicare savings.
Licensed physicians that also possess advanced training in genetics are highly specialized professionals and not numerous enough to provide all of the counseling patients need. On the other hand, the genetic counseling workforce is growing—to the tune of "88–100% in the past 10 years, with continued projected growth of 72–100% in the next decade." Even still, challenges remain in meeting clinical staffing needs, especially for counselors that specialize in a particular disease or group of diseases. Thus, new patient delivery methods, such as telemedicine, are being utilized in an effort to close this gap. A 2016 study of cancer genetic counseling for urgent patients showed that only 1% of such patients were counseled in person with physician involvement. Proponents of H.R. 3235 feel that restricting referrals of Medicare patients in need of genetic counseling services to only physicians that work alongside a genetic counselor rather than to the genetic counselor directly severely limits options for patients.
In a survey of medical directors and quality assurance directors at health insurance carriers, "CMS/Medicare regulations" was among the most highly ranked barriers to payer utilization of genetic counselors. In this new era of genomic medicine where patients can now undergo direct-to-consumer genetic testing, access to genetic counseling is absolutely vital as patients try to make the best healthcare decisions for themselves and their families. As healthcare policy attitudes in the United States shift towards expanding Medicare coverage, the number of individuals covered by Medicare will continue to increase. Passage of H.R. 3235 would help ensure that Medicare policy keeps up with the modern delivery of genetic services in order to provide this population with the best care.