Published: Tuesday, July 25, 2023, 12:00 p.m. U.S. Eastern Time
Media Contact: Kara Flynn, 202.257.8424, press@ashg.org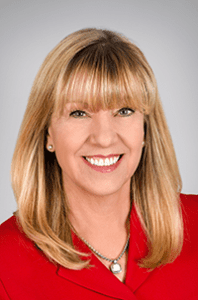 ROCKVILLE, MD – The American Society of Human Genetics (ASHG) has named Dianna Milewicz, MD, PhD, as the 2023 recipient of the ASHG Advocacy Award. Dr. Milewicz is the President George H.W. Bush Chair of Cardiovascular Medicine, Director of the Division of Medical Genetics and Vice-Chair of the Department of Internal Medicine at the University of Texas Health Science Center at Houston (UTHealth) McGovern Medical School
This award, which includes a $10,000 prize, is bestowed upon an individual or group of individuals who have exhibited excellence and achievement in promoting the science of human genetics and its application for the common good.
"Dr. Milewicz's work has led to extensive discoveries and life-saving care related to aortic diseases," said ASHG President Brendan Lee, MD, PhD. "She exemplifies the ASHG Advocacy Award in her engagement and collaboration with patients with these diseases, their families, and a wide spectrum of professionals who care for these patients. It is clear that they all express gratitude and admiration for her and her work."
Dr. Milewicz's longstanding efforts to educate the public on the genetic basis of aortic diseases have led to life-saving and preventative care for many. Her work has ranged from collaborations with professionals including cardiologists and genetic counselors, to leading the creation of cross-disciplinary teams that have developed clinical guidelines to optimize care for patients with aortic disorders. Many patients can now rely on early detection and correct diagnoses to avoid premature death. She is one of the founders and currently serves as Chair of the Montalcino Aortic Consortium (MAC), whose mission is to provide evidence-based data for gene- and variant-specific management of genetically-triggered thoracic aortic disease. Dr. Milewicz's goal is for the data emerging from MAC to serve as a template for other adult-onset disorders associated with extensive clinical and phenotypic heterogeneity.
"I established The John Ritter Foundation for Aortic Health with the simple mission of preventing premature deaths through research and awareness of risk factors for acute dissection. Establishing the John Ritter Research Program to be led by Dr. Milewicz at the University of Texas Health Science Center at Houston in 2008 made perfect sense for us," said Amy Yasbeck Ritter, Chairman and Founder of the foundation, in her nomination letter. "Dr. Milewicz's mission to identify genetic triggers for thoracic aortic disease and defining gene-specific management has changed the lives of thousands of people and their families. Her lab not only provides groundbreaking, lifesaving research for our community but also provides genetic counseling at no cost to dissection survivors and their family members."
Dr. Milewicz completed her postgraduate training in internal medicine at the University of Texas Southwestern Medical School, where she obtained her Medical Degree and Doctor of Philosophy and also completed her internal medicine residency. As a medical genetics fellow at the University of Washington, she was first author on the paper demonstrating that  fibrillin-1 is disrupted in cells from individuals with Marfan Syndrome as a result of underlying pathogenic variants in the corresponding gene, FBN1. Upon returning to Texas, she set up her own laboratory at the University of Texas Health Science Center at Houston and went on to identify most of the genes analyses in patients with thoracic aortic disease. Dr. Milewicz has been the Director of the MD/PhD Program offered jointly between the University of Texas Health Science Center at Houston and MD Anderson Cancer Center institutions for over 10 years and has been extensively involved in physician scientist training. She serves as medical advisor and is on the Board of the John Ritter Foundation for Aortic Health, which strives to increase public recognition of aortic disease.
* * *
About the American Society of Human Genetics (ASHG)
Founded in 1948, the American Society of Human Genetics is the primary professional membership organization for human genetics specialists worldwide. Its community of nearly 8,000 members include researchers, academicians, clinicians, laboratory practice professionals, genetic counselors, nurses, and others with an interest in human genetics. The Society serves scientists, health professionals, and the public by providing forums to: (1) share research results through the ASHG Annual Meeting and in The American Journal of Human Genetics and Human Genetics and Genomics Advances; (2) advance genetic research by advocating for research support; (3) educate current and future genetics professionals, health care providers, advocates, policymakers, educators, students, and the public about all aspects of human genetics; and (4) promote genetic services and support responsible social and scientific policies. For more information, visit: http://www.ashg.org.
6120 Executive Blvd, Suite 500 | Rockville, MD 20852 | 301.634.7300 | society@ashg.org | www.ashg.org
Connect with ASHG on Twitter (@GeneticsSociety) | Facebook | LinkedIn