Published: Tuesday, July 25, 2023, 12:00 p.m. U.S. Eastern Time
Media Contact: Kara Flynn, 202.257.8424, press@ashg.org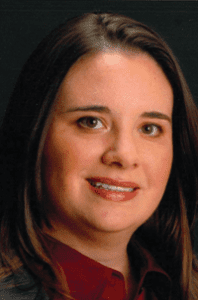 ROCKVILLE, MD – The American Society of Human Genetics (ASHG) has named Jennifer Posey, MD, PhD, as the 2023 recipient of the ASHG Early Career Award. Dr. Posey is an Assistant Professor of Molecular & Human Genetics at Baylor College of Medicine. Dr. Posey is one of two award recipients in 2023.
This award recognizes scientists who are in the early stages of their career as independent investigators. This award will include a $5,000 prize.
"ASHG applauds Dr. Posey's accomplishments in such a short period of time," said ASHG President Brendan Lee, MD, PhD. "Her leadership and drive have already resulted in an impressive array of successes in genomic medicine. We are excited to award her with the ASHG Early Career Award and eagerly await what is to come in future years."
Time and time again, Dr. Posey has forged her own unique path to create an immediate and lasting impact. From residency training years when she created her own training path in order to gain experience in the clinical evaluation of adult patients in medical genetics, to choosing not to follow the typical progression from a K08 to R01-level grant and instead take on the lead role in an NIH/NHGRI-supported U01 program. Dr. Posey seizes opportunities outside of expectations. Even more, she excels and furthers these opportunities. Entering just the third year of funding from NIH/NHGRI-supported U01 program, her program – Baylor College of Medicine site for the Genomic Research to Elucidate the Genetics of Rare disease (GREGoR) research consortium – has supported discoveries published in 20 peer-reviewed scientific manuscripts. Additionally, as one of only a small number of clinical geneticists involved in the Rare and Atypical Diabetes Network (RADIANT) consortium, her own success in the rare disease research space quickly led to her holding leadership positions for two of the key working groups of the RADIANT program. This consortium seeks to identify and characterize individuals with atypical diabetes. Her leadership has led to assessments for over 100 participants in the last two years and has united specialists' findings across 8 clinical sites around the United States.
"Jennifer has demonstrated tremendous drive and passion, both in her scientific and career pursuits," said Wendy K. Chung, MD, PhD, Kennedy Family Professor of Pediatrics and Medicine, Director of Clinical Genetics, Columbia University, in her nomination letter. "As the field of genomic medicine continues to develop, I have every expectation that Jennifer's research will continue to have a tremendous impact on human genomic discovery."
Dr. Posey obtained her MD, PhD from Baylor College of Medicine and went on to complete her residency training in the Research Pathway in the Department of Medicine at Columbia University Medical Center. Through her work as a physician-scientist and a medical and human geneticist, Dr. Posey's ultimate goal is to be able to translate our understanding of the relationship between an individual's genotype and phenotype into actionable and treatable information in the clinic. She is a member of the ASHG Career Development Committee.
* * *
About the American Society of Human Genetics (ASHG)
Founded in 1948, the American Society of Human Genetics is the primary professional membership organization for human genetics specialists worldwide. Its community of nearly 8,000 members include researchers, academicians, clinicians, laboratory practice professionals, genetic counselors, nurses, and others with an interest in human genetics. The Society serves scientists, health professionals, and the public by providing forums to: (1) share research results through the ASHG Annual Meeting and in The American Journal of Human Genetics and Human Genetics and Genomics Advances; (2) advance genetic research by advocating for research support; (3) educate current and future genetics professionals, health care providers, advocates, policymakers, educators, students, and the public about all aspects of human genetics; and (4) promote genetic services and support responsible social and scientific policies. For more information, visit: http://www.ashg.org.
6120 Executive Blvd, Suite 500 | Rockville, MD 20852 | 301.634.7300 | society@ashg.org | www.ashg.org
Connect with ASHG on Twitter (@GeneticsSociety) | Facebook | LinkedIn