Published: Monday, July 12, 2021, 12:00 p.m. U.S. Eastern Time
Media Contact: Krystal Foster, 631-946-0740 press@ashg.org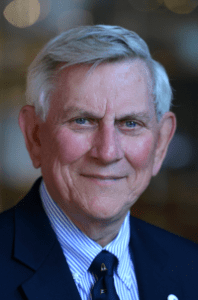 ROCKVILLE, MD – The American Society of Human Genetics (ASHG) has named C. Thomas  Caskey, M.D., Professor, Molecular and Human Genetics, at the Baylor College of Medicine, as the 2021 recipient of the annual William Allan Award.
The William Allan Award, which carries a $25,000 prize, recognizes substantial and far-reaching scientific contributions to human genetics, and was established in 1961 in memory of William Allan, MD (1881-1943), one of the first American physicians to conduct extensive research on human genetics and hereditary diseases.
"Dr. Caskey is one of the most respected scientists in our field and has made extraordinary contributions in our understanding of the molecular basis of disease," said Gail Jarvik, MD, PhD, president of ASHG. "He has been a leader, in research, education and public policy for human genetics for close to 50 years. His many contributions have affected all aspects of modern human genetics and its application to medicine."
Dr. Caskey is a pioneer in human molecular genetics and genomics. His current research focuses on the application of whole genome sequence and metabolomics of individuals toward the objective of disease risk and its prevention. "Tom's research accomplishments coupled with his infectious enthusiasm, can-do attitude and aggressive promotion led the way for bringing modern molecular genetics into medicine. He has been an effective communicator of the excitement  around human genetics," said David Valle, MD, Henry J. Knott Professor and Director McKusick-Nathans Institute of Genetic Medicine, in his nomination letter.
"The breadth of Tom's work is inspiring—from very basic molecular and genetics work to identification of human disease genes through implementation of these emerging technologies to genetic testing and application in forensics," said Louis J. Ptáček, MD, Coleman Distinguished Professor of Neurology at the University of California, San Francisco. "In addition to his accomplishments in research and training, Tom has also made his mark on development of policies regarding human genetic research and its application to diagnosis and treatment of patients with genetic diseases."
Dr. Caskey began his research at Duke University, studying de novo purine allosteric regulation with Dr. James B. Wyngaarden. At the National Institutes of Health (NIH), under Dr. Marshall Nirenberg, he defined the 'universality' of the genetic code and discovered codon-specific proteins controlling translation termination. In 1971 he moved to Baylor College of Medicine and founded the Department of Molecular and Human Genetics, now ranked number one by funding in the United States. He has received numerous academic and industry honors. His genetic research identified genetic basis of 25 major inheritable diseases and clarified the understanding of "anticipation" in triplet repeat diseases (Fragile X, myotonic dystrophy and over 25 others). His personal identification patent is the basis of worldwide application for forensic science, and he is also a consultant to the FBI in forensic science.
Although ASHG has made the decision to host the Society's annual meeting virtually, the exact timing of the William Allan Award Presentation is not yet known. An update will be provided as soon as information is available.
***
About the American Society of Human Genetics (ASHG)
Founded in 1948, the American Society of Human Genetics is the primary professional membership organization for human genetics specialists worldwide. Its nearly 8,000 members include researchers, academicians, clinicians, laboratory practice professionals, genetic counselors, nurses, and others with an interest in human genetics. The Society serves scientists, health professionals, and the public by providing forums to: (1) share research results through the ASHG Annual Meeting and in The American Journal of Human Genetics; (2) advance genetic research by advocating for research support; (3) educate current and future genetics professionals, health care providers, advocates, policymakers, educators, students, and the public about all aspects of human genetics; and (4) promote genetic services and support responsible social and scientific policies. For more information, visit: http://www.ashg.org.
6120 Executive Blvd, Suite 500 | Rockville, MD 20852 | 301.634.7300 | society@ashg.org | www.ashg.org
Connect with ASHG on Twitter (@GeneticsSociety) | Facebook | LinkedIn