Published: Monday, July 12, 2021, 12:00 p.m. U.S. Eastern Time
Media Contact: Krystal Foster, 631-946-0740 press@ashg.org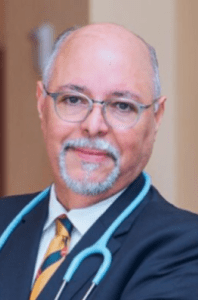 ROCKVILLE, MD – The American Society of Human Genetics (ASHG) has named Alberto Santiago-Cornier, MD, PhD as the recipient of the 2021 Mentorship Award. Dr. Santiago-Cornier is the Chief of the Genetic Section at the San Jorge Children's and Women's Hospital in San Juan, Puerto Rico and is an Associate Professor of Public Health at Ponce Health Sciences University in Ponce, PR and Pediatrics at Universidad Central del Caribe, Bayamon, PR.
This award, which includes a plaque with a $10,000 prize, recognizes ASHG members who have significant records of accomplishment as mentors. It is open to individuals at all academic ranks who have shown a sustained pattern of exemplary mentorship at the graduate student, postdoctoral, residency, or fellowship level.
"Dr. Alberto Santiago-Cornier's work has been absolutely vital to the people of Puerto Rico contributing to the well-being of patients with genetic diseases and not only helping them mostly through education and services but at times also economically," said ASHG President Gail Jarvik, MD, PhD. "Through his passionate mentoring of his students and postdocs, he has also led a new generation of geneticists to pursue their own groundbreaking work."
Mentorship is critical in order to establish a successful career trajectory in human genetics, but particularly in Puerto Rico where there have been some well publicized challenges. "Since the beginning of his career in Puerto Rico hundreds of high school, undergraduate and graduate students, interns, and residents have done shadowing or formal genetic rotations with him; more than a handful of them had gone to pursue their careers in the field of genetics," wrote Simon Carlo, MD, IRB Chair Assistant Professor Biochemistry, Pediatrics & Psychiatry Ponce Health Sciences University Ponce, PR, in his nomination letter. "I believe that in such a small island like Puerto Rico the fact that his clinical, teaching, and mentoring skills have impacted such a high proportion of the population makes him the idoneous candidate to receive a mentoring award."
In addition to Dr. Santiago-Cornier's extensive work in the development and application of methods for genome-wide association studies, with particular interest on genetic disorders that are prevalent in the Puerto Rican / Hispanic populations, he is also the founder of the first Genetic and Metabolic Disorders Association in Puerto Rico. Other groups founded by him includes "Somos Team Jarcho-Levin" and most recently the Jarcho-Levin Foundations which are geared to the well-being of patients with genetic diseases and to help them through education and services, and also economically. The Jarcho-Levin Foundation is also promoting research to further establish a phenotype/genotype correlation that will result in better clinical outcomes and quality of life for patient with this disorder.
Dr. Santiago-Cornier graduated from the Universidad Central Del Este (UCE) School of Medicine, DR, did his internship and Pediatrics residency at Mayaguez Medical Center, PR, completed a fellowship in Clinical Genetics at Boston Children's Hospital/Harvard School of Medicine, MA; and earned his PhD in Biomedical Sciences (Human Molecular Genetics) from Ponce Health Sciences University, PR.
Although ASHG has made the decision to host the Society's annual meeting virtually, the exact timing of the Mentorship Award Presentation is not yet known. An update will be provided as soon as information is available.
* * *
About the American Society of Human Genetics (ASHG)
Founded in 1948, the American Society of Human Genetics is the primary professional membership organization for human genetics specialists worldwide. Its nearly 8,000 members include researchers, academicians, clinicians, laboratory practice professionals, genetic counselors, nurses, and others with an interest in human genetics. The Society serves scientists, health professionals, and the public by providing forums to: (1) share research results through the ASHG Annual Meeting and in The American Journal of Human Genetics; (2) advance genetic research by advocating for research support; (3) educate current and future genetics professionals, health care providers, advocates, policymakers, educators, students, and the public about all aspects of human genetics; and (4) promote genetic services and support responsible social and scientific policies. For more information, visit: http://www.ashg.org.
6120 Executive Blvd, Suite 500 | Rockville, MD 20852 | 301.634.7300 | society@ashg.org | www.ashg.org
Connect with ASHG on Twitter (@GeneticsSociety) | Facebook | LinkedIn