For Immediate Release
Friday, July 20, 2018
12:00 p.m. U.S. Eastern Time
Media Contact:
Ann Klinck
301.634.7342
press@ashg.org
Geneticist to Receive Award at ASHG 2018 Annual Meeting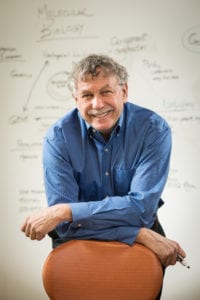 ROCKVILLE, MD – The American Society of Human Genetics (ASHG) has named Eric S. Lander, PhD, president and founding director of the Broad Institute of MIT and Harvard, the 2018 recipient of the annual William Allan Award.
The Allan Award, which recognizes a scientist for substantial and far-reaching scientific contributions to human genetics, was established in 1961 in memory of William Allan, MD (1881-1943), one of the first American physicians to conduct extensive research on human genetics and hereditary diseases. Dr. Lander will receive his award, which will include an engraved medal and $25,000 prize, on Thursday, October 18, during ASHG's 68th Annual Meeting in San Diego, California. He will present his William Allan Award address immediately thereafter.
Dr. Lander has been a major leader in the study of the human genome and in the Human Genome Project. In 1986, he and David Botstein, PhD, laid out fundamental ideas for key methods in human genetics—including for linkage disequilibrium mapping in populations, which has enabled the discovery of genes underlying common polygenic traits by genome-wide association studies. From this work, Dr. Lander saw the need for a detailed genetic map of the human genome. He then played a central role in creating the genetic, physical, and sequence maps of the human and mouse genomes. He also led efforts to discover millions of single-nucleotide polymorphisms (SNPs), which have enabled efficient mapping of genes related to human diseases, including more than 30,000 loci underlying common diseases and traits.
Dr. Lander helped pioneer the use of genome-wide expression analysis to characterize tumors. This initial work led to the creation of The Cancer Genome Atlas (TCGA), a comprehensive catalog of cancer genes that defines and details the molecular architecture of the most common human malignancies. He has also done groundbreaking work on human population history, genome evolution, regulatory elements, long non-coding RNAs, three-dimensional folding of the human genome, and genome-wide functional screens to discover the genes essential for biological processes.
In 2004, Dr. Lander launched the Broad Institute, a research institution in which scientists collaboratively tackle challenges in genomic medicine—combining biology, chemistry, mathematics, computation, and engineering with medical science, clinical research, and open data-sharing.
"Dr. Lander's involvement in creating the Broad Institute is just one of his many contributions to human genetics," said David L. Nelson, PhD, President of ASHG. "His efforts through fundamental projects such as the Human Genome Project and The Cancer Genome Atlas have impacted the future of our field in directions beyond those initially imagined."
Dr. Lander is currently a professor of biology at the Massachusetts Institute of Technology and of systems biology at Harvard Medical School. Among his awards and honors are: the Rhodes Scholarship (1978–81), the MacArthur Fellowship (1987-92), the Gairdner Foundation International Award in Canada (2002), the Albany Prize in Medicine and Biological Research (2010), the Dan David Prize in Israel (2012), the Mendel Medal of the Genetics Society of the UK (2012), and the Breakthrough Prize in Life Sciences (2013). From 2009-2017, he served as Co-chair of the President's Council of Advisors on Science and Technology for President Barack Obama.
About the American Society of Human Genetics (ASHG)
Founded in 1948, the American Society of Human Genetics is the primary professional membership organization for human genetics specialists worldwide. Its nearly 8,000 members include researchers, academicians, clinicians, laboratory practice professionals, genetic counselors, nurses, and others with an interest in human genetics. The Society serves scientists, health professionals, and the public by providing forums to: (1) share research results through the ASHG Annual Meeting and in The American Journal of Human Genetics; (2) advance genetic research by advocating for research support; (3) educate current and future genetics professionals, health care providers, advocates, policymakers, educators, students, and the public about all aspects of human genetics; and (4) promote genetic services and support responsible social and scientific policies. For more information, visit: http://www.ashg.org.
6120 Executive Blvd, Suite 500 | Rockville, MD 20852 | 301.634.7300 | society@ashg.org | www.ashg.org
Connect with ASHG on Twitter (@GeneticsSociety) | Facebook | LinkedIn