For Immediate Release
Thursday, July 6, 2017
12:00 p.m. U.S. Eastern Time
Media Contact:
Nalini Padmanabhan
ASHG Communications Manager
301.634.7346
press@ashg.org
Physician-Scientist to Receive Award at ASHG 2017 Annual Meeting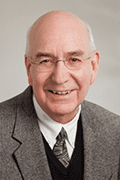 BETHESDA, MD – The American Society of Human Genetics (ASHG) has named Edward R.B. McCabe, MD, PhD, Distinguished Professor Emeritus and Inaugural Mattel Executive Endowed Chair of the Department of Pediatrics at the UCLA School of Medicine, and Inaugural Physician-in-Chief at the UCLA Mattel Children's Hospital, and former Chief Medical Officer of the March of Dimes, as the 2017 recipient of the Advocacy Award.
This award honors individuals or groups who have exhibited excellence and achievement in applications of human genetics for the common good, in areas such as facilitating public awareness of genetics issues, promoting funding for biomedical research, and integrating genetics into health systems. ASHG will present the award, which will include a plaque and $10,000 prize, on Friday, October 20, during the organization's 67th Annual Meeting in Orlando, Florida.
"I am extremely honored to receive this award," said Dr. McCabe. "However, advocacy is a team effort and I share this award with my many wonderful colleagues who have been engaged with me in this work."
Dr. McCabe began his biomedical career as a high school student, screening patients for phenylketonuria (PKU) and other amino acid disorders at the University of Maryland Pediatric Research Lab. After earning an MD/PhD at the University of Southern California, he continued to study PKU, glycerol kinase deficiency, and other inherited metabolic diseases, as well as develop screening techniques for genetic conditions at the University of Colorado and Baylor College of Medicine. In 1994, he joined UCLA as Executive Chair of Pediatrics and in the following years, established the UCLA Children's Hospital, Mattel Children's Hospital UCLA (now the UCLA Mattel Children's Hospital), and the UCLA Center for Society, the Individual and Genetics (now the Institute for Society and Genetics). While at UCLA, he was appointed chair of the U.S. Department of Health and Human Services Secretary's Advisory Committees on Genetic Testing and on Genetics, Health and Society under Presidents Clinton and Bush, respectively.
From 2012 to 2017, Dr. McCabe served as Senior Vice President and Chief Medical Officer of the March of Dimes Foundation, where he worked to prevent prematurity, birth defects, and infant mortality. While there, he and his colleagues advocated successfully for the Newborn Screening Saves Lives Reauthorization Act (signed into law December 18, 2014), the Food and Drug Administration's approval of voluntary fortification of corn masa flour with folic acid to decrease the risk of neural tube defects in the Latino population (approved April 14, 2016), and the Frank R. Lautenberg Chemical Safety for the 21st Century Act (signed into law June 22, 2016). He also worked to educate the public in English and Spanish about the risks and prevention of Zika virus infections, particularly in pregnant women.
A member of ASHG since 1979, Dr. McCabe belonged to the Society's Program Committee in 2000 and served on its Board from 2008-11, including a year as its president in 2009. He has also served as President of the American Board of Medical Genetics (1995-96), the American College of Medical Genetics (2001-02), and the American Pediatric Society (2006-07). He is currently Editor of Molecular Genetics and Metabolism and co-Editor of Molecular Genetics and Metabolism Reports. He has published over 175 articles in the scientific literature.
About the American Society of Human Genetics (ASHG)
Founded in 1948, the American Society of Human Genetics is the primary professional membership organization for human genetics specialists worldwide. Its nearly 8,000 members include researchers, academicians, clinicians, laboratory practice professionals, genetic counselors, nurses, and others with an interest in human genetics. The Society serves scientists, health professionals, and the public by providing forums to: (1) share research results through the ASHG Annual Meeting and in The American Journal of Human Genetics; (2) advance genetic research by advocating for research support; (3) educate current and future genetics professionals, health care providers, advocates, policymakers, educators, students, and the public about all aspects of human genetics; and (4) promote genetic services and support responsible social and scientific policies. For more information, visit: http://www.ashg.org.
9650 Rockville Pike | Bethesda, MD 20814 | 301.634.7300 | society@ashg.org | www.ashg.org
Connect with ASHG on Twitter (@GeneticsSociety) | Facebook | LinkedIn