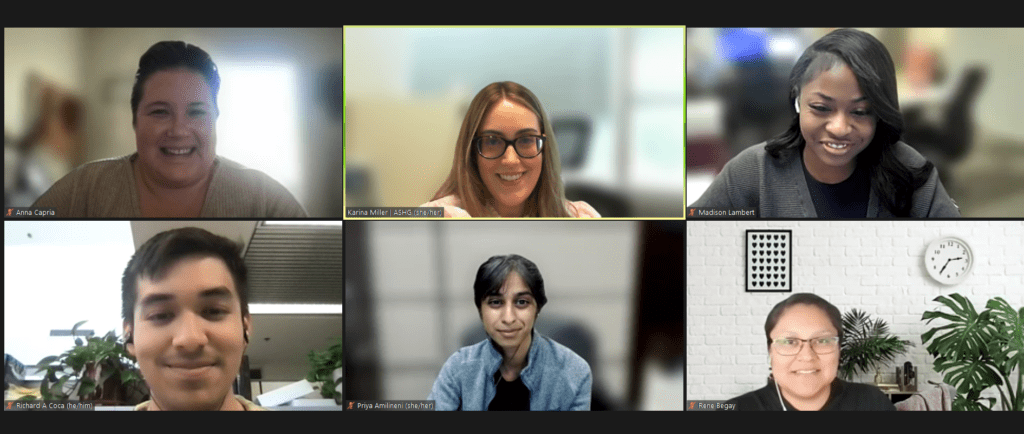 In May 2023, ASHG hosted its third year of virtual advocacy meetings on Capitol Hill. Both current and several former trainee advocates from the Advocacy Certificate for Human Genetics and Genomics Trainees (ACGT) program participated in this week-long advocacy activity. The ACGT program was launched as part of ASHG's Government & Public Advocacy Committee (GPAC) Board-approved Action Plan to develop an advocacy training program for early-career ASHG members. GPAC chair, Cynthia Morton, PhD, articulated that by communicating with policymakers, ASHG members can help Congress understand how human genetics and genomics research and the application of genetics-based healthcare tools can be applied such that all people realize the benefits of scientific advancements. Advocates have a key role in meeting with their representatives' offices and sharing how NIH-funded advances in human genetics and genomics research in their state and institution are enabling new insights into preventing, diagnosing, and treating disease.
Genetic Research is Transforming Medicine and Saving Lives
ACGT advocates began the meetings by thanking Congressional offices for their continued strong support and leadership in funding the NIH. Trainees shared how the NIH funds much of their research and called upon members of Congress to support robust funding for the NIH, efforts to diversify participation in human genetics research, and how continued biomedical research funding supports novel applications of genetic technology.
2023 ACGT advocate Anna Capria, MS, talked about her master's thesis work and noted that NIH funding was critical for this project. "Increasing NIH funding is important because so much of what we know about genetics is not representative of the U.S. population. My thesis work applied human genetics and genomic data analytics to expand our understanding of phenotypic terms in rare disease patients with the goal to provide value to and increase participation from a more diverse patient group. Ultimately, this research seeks to provide answers and increase access to knowledge generated from genomic research."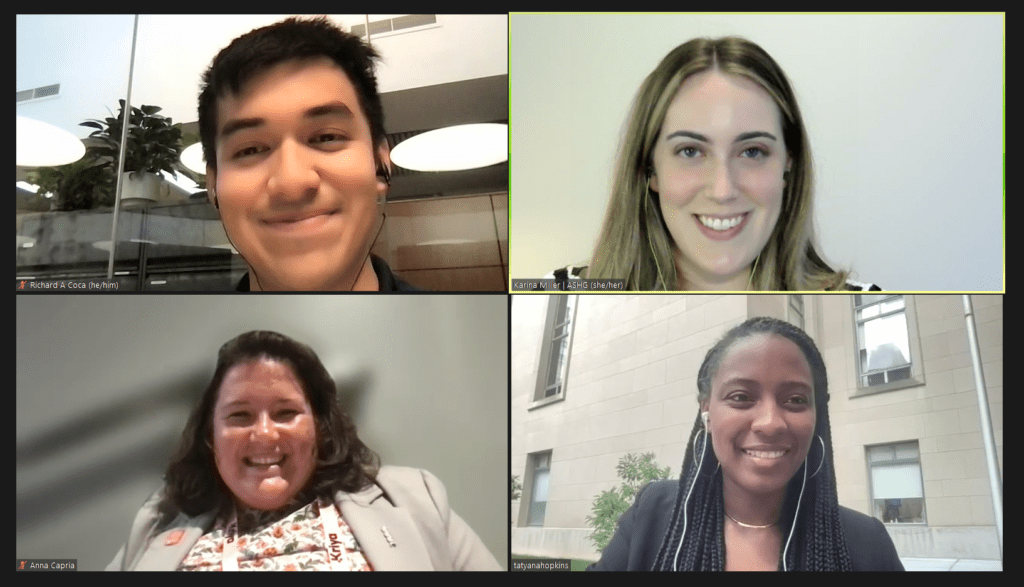 ACGT advocate Nandana Rao, PhD, MS, discussed how new NIH-funded research is examining how the presence of repeated segments of DNA in the human genome can influence the development of neuropsychological disorders.  Genetic screening can identify people early and extra care support can be provided to such individuals so that they can better navigate health systems. Jasmine Lewis, a third-year PhD student, added that genetic research has been able to identify the risk for developing cardiovascular disease from childhood maltreatment through polygenic risk scores, which can provide a measure of someone's risk for developing disease based on their genes. Genetic research has shown that a transdiagnostic approach that expands past traditional diagnostic criteria may be needed to address the complexities of mental health assessment and treatment especially as it relates to health outcomes.
Leonard Wang, an MD/MPH student, shared an example of how NIH-funded genetics research is providing hope. "Rickets is a condition that is due to inadequate vitamin D or calcium in the diet or can be the result of genetic disorders. The NIH has funded research to advance our understanding and management of vitamin D-dependent rickets. With proper diagnosis and treatment, children affected by rickets are able to live a healthy life with no symptoms. Vitamin D-dependent rickets is a treatable condition, therefore investment of taxpayer dollars into research offers an opportunity to improve the quality of life among children afflicted by the condition."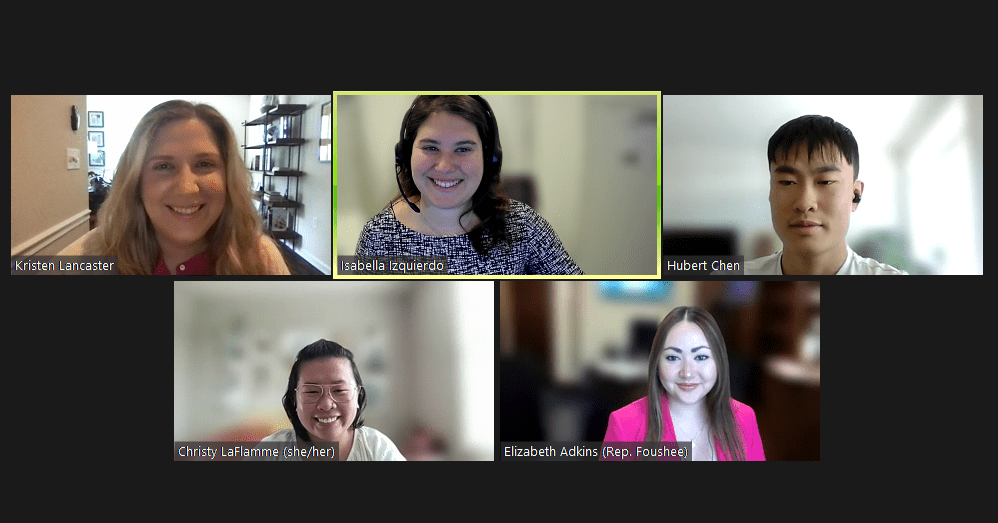 Doctoral candidate, Christy LaFlamme, MS, shared testimony on how decades of work funded by the NIH has led to the first FDA-approved drug for treating progeria, a rare pediatric genetic disorder that causes accelerated aging and premature death in children. This advancement was made possible by our understanding of human genetics and subsequent knowledge of exactly how a single gene mutation leads to disease. Congress' robust support for human genetics and genomics research is essential for continued progress in the field.
How You Can Get Involved
This is a key time of year for advocacy efforts as Congress is deliberating on FY 2024 funding levels for federal agencies. Add your voice by contacting your members of Congress in support of an NIH funding increase for FY 2024. This is a great opportunity to participate remotely in ASHG's advocacy efforts and join in supporting policies that impact the research community. To stay informed, become an ASHG Advocate and sign up for our monthly e-newsletter. Learn more about ASHG's policy priorities and advocacy activities by visiting our advocacy page.
ASHG Continues to Share the Extraordinary Progress in Preventing, Diagnosing, and Treating Disease
On May 18, ASHG President Brendan Lee, MD, PhD, submitted written testimony to the Senate Appropriations Subcommittee on Labor, Health and Human Services, Education, and Related Agencies (Labor-HHS) on behalf of the Society, urging Congress to provide at least $51 billion for NIH in FY 2024. This amount would allow NIH's base budget to keep pace with the biomedical research and development price index (BRDPI) and allow meaningful growth of five percent. This is consistent with the broader research community's FY 2024 funding level recommendations. ASHG also submitted testimony to the House Appropriations Labor-HHS Subcommittee in March 2023, illustrating how advances in genomic sequencing, both in sequencing speed and cost reduction, have been leveraged to enhance the ability to detect genetic predisposition to conditions and diagnose both common and rare diseases.
NIH Advocacy is Critical in FY 2024
The research community's sustained advocacy efforts and outreach to Congress have resulted in robust support for the NIH for eight consecutive years, with a 50% increase to NIH's budget during this period. President Biden's FY 2024 budget request proposes $48.265 billion for NIH's base, which represents an $811 million or 1.7% increase over the comparable FY 2023 funding level. This essentially flat funds many of NIH's institutes and centers as well as the foundational research NIH supports in labs across the United States. Bipartisan and bicameral NIH champions in Congress usually deliver an NIH funding level over and above the President's request. However, the challenging political and fiscal environment may make it difficult for NIH to receive a significant budget increase in FY 2024. In addition, the recently signed Fiscal Responsibility Act of 2023 couples cuts to non-defense discretionary appropriations – which includes NIH – to a deal to raise the debt ceiling. The passage of the bill avoided a default on the country's finances by suspending the borrowing limit through Jan. 1, 2025, while imposing cuts to future federal spending over the next two years. Therefore, it is critical for advocates to continue to communicate that robust, sustained, and predictable annual funding increases for the NIH are essential to catalyze health breakthroughs, address upcoming health needs and challenges, and provide hope.