From the President's Desk: Leslie Biesecker, MD
June 2019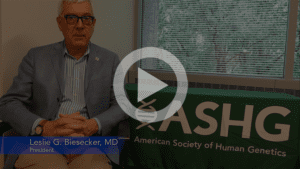 President Leslie Biesecker discusses the vision and goals of the 2019-2023 Strategic Plan.
As you may know, ASHG membership and leaders have been involved in a strategic planning process for the past many months, which culminated in the release of our 2019-23 Strategic Plan in May. The Plan provides a road map for our organization to respond to evolving member needs in the next three to five years, and to focus our efforts where we can best serve the field and society more broadly. Building upon a strong foundation and a rapidly advancing field, it enables us to share the benefits, excitement, utility, and beauty of the genetic and genomic research accomplished by our members.
Reflecting ASHG's role as a membership society, the formulation of the Plan began with the members – specifically through a member survey last summer. The process also included committee discussions, conversations with a variety of stakeholders, and a two-day strategic planning session attended by the Board and selected additional participants. It has been my pleasure to work with both this group and with our current Board, which have such thoughtful, diverse viewpoints and are is able to work through substantive debate in a productive and collegial way.
Through this process, we came to understand just how many opportunities are in front of us. We felt it was important to establish clear priorities and a niche for ASHG within the larger ecosystem of the genetics and genomics field. To this end, we started by articulating a long-term vision: People everywhere realize the benefits of human genetics and genomics research.
It's an ambitious vision, and one we hope will inspire Society leadership and members to expand upon the great work already being done.
A Member-Centric Perspective
In the member survey, participants reported high satisfaction with the Society and Annual Meeting. They also indicated they'd like to see more from ASHG, particularly content and programs to serve their professional needs and improve the value of membership.
Responding to this need, Year-Round Programming and Member Engagement are important cornerstones of the Strategic Plan. We look forward to working with committees and subject matter experts to increase opportunities for education, training, and career development throughout the year. We also plan to provide more opportunities for engagement with the Society, including ways to network and interact with others who share common interests within our broad field.
Survey respondents also prioritized Diversity in genetics and genomics. New programs like the Human Genetics Scholars Initiative aim to increase and support workforce diversity and inclusion in our field. The Plan also recognizes the importance of diverse population participation in genetics and genomics research to better reflect the diversity of all humans.
Members at the Center of Public Discussion
With 70 years as the largest and widest-ranging organization in human genetics and genomics, we collectively play an important role in the dissemination of genetic research findings across audiences. Reflecting this role, Public Awareness is the Plan's fourth arm, and we intend to strengthen ASHG's position as a reliable and sought-after source for public and policymaker information on the benefits of human genetics and genomics research.
Amidst all this new activity, ASHG will continue to offer a cutting-edge Annual Meeting, a highly regarded journal in The American Journal of Human Genetics, and the full slate of benefits that members already enjoy. I look forward to the Society's new directions, and as always, welcome your input, feedback, and participation.