Results Highlight High Member Satisfaction and Possible Future Steps
September 2018
ASHG's 2018 Membership Survey results are in! Thanks to the many of you who took the time to share your valued feedback on the future directions of the Society. This is the first in-depth survey ASHG has done in many years, and we will continue to give members opportunities to provide input that will help inform future priorities.
"As the first in-depth member survey in many years, we are excited to have these benchmark measurements to guide the Society's efforts," said Zach Nevin, Member of the ASHG Board of Directors, who helped plan and craft the survey.
Survey respondents included current members (67%), former members (24%), and people who have never been members (8%).
Respondents Broadly Reflect Membership Composition
Survey respondent demographics in large part match that of ASHG membership, with around a third being trainees. Sixty-six percent of respondents primarily work in research, compared to 21% focused on clinical work.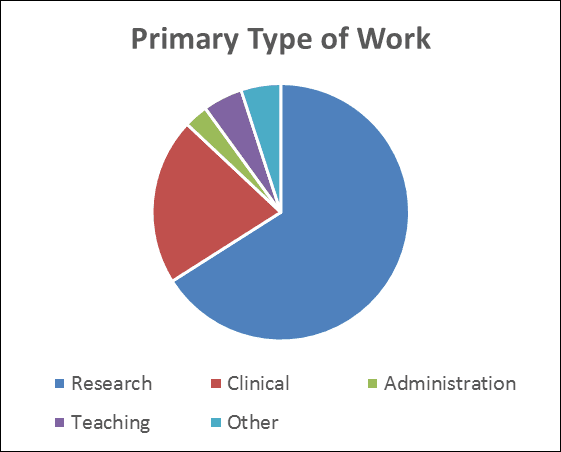 Respondents were asked to choose up to 4 interest areas. Genomics and molecular genetics were by far the most popular, followed by population genetics and informatics.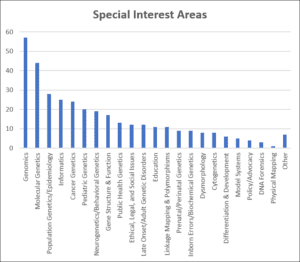 Satisfaction and Reasons for Joining
ASHG members have positive perceptions of the Society. 86% indicated they were either very satisfied or somewhat satisfied with their membership, well above the average satisfaction rate for scientific societies (69%). Similarly, they are also very likely to recommend membership to others, with 83% of members rating their likelihood of recommending ASHG to a colleague at a 7 or higher (on a scale of 1-10). This is also well above average for scientific societies overall.
The main drivers for joining ASHG include the Annual Meeting (72%), staying informed about the latest developments and trends (55%), networking (47%), and access to professional education and career development (23%). While all respondents value the Annual Meeting, the Journal, and Society statements on ethical and social issues, less tenured professionals have a greater interest in professional education (38%) while more tenured individuals show significant interest in staying informed (72%). When asked how they would gain greater value from ASHG membership, respondents reported a desire for additional professional education and networking opportunities – themes that carried through the full survey results.
Serving Your Professional Needs
The most important future strategic priorities were identified as knowledge dissemination, professional education, and networking/community building. Respondents also recognize the importance of continued investment in public education, policy, and engagement.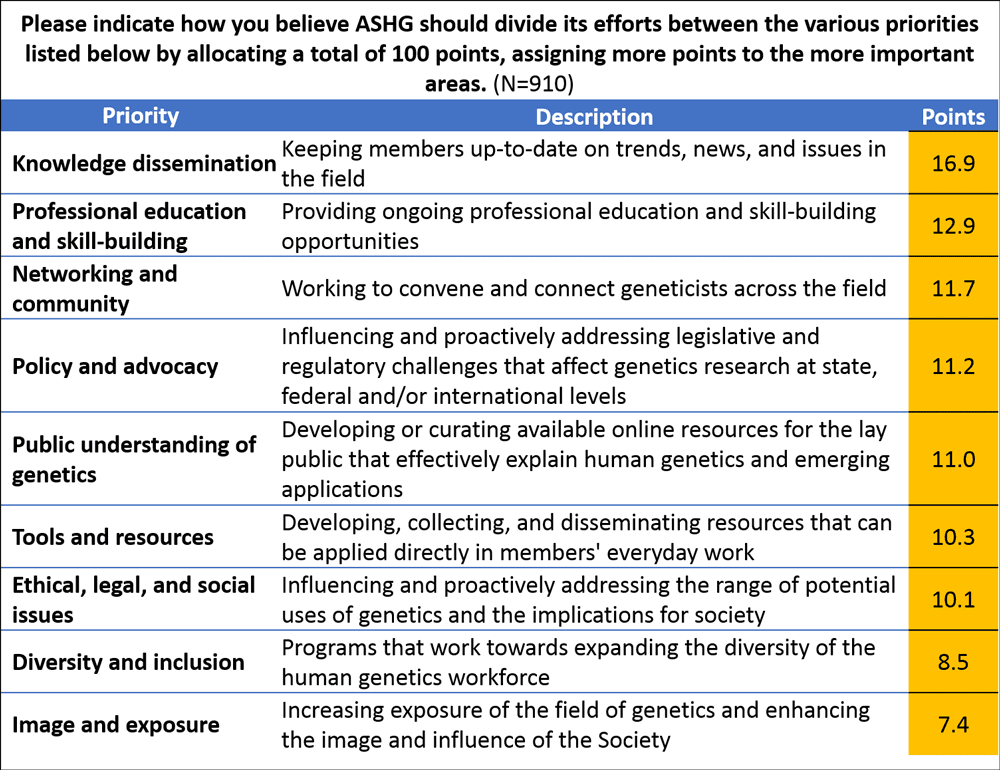 Possible Directions for New Member Programs and Strategic Planning
In a similar vein, members were asked to indicate their interest in new benefits and services. Year-round programming on emerging research, tools, technologies, and methods (68%); tailored networking opportunities for specific member groups (66%); and targeted communications based on interests (62%) emerged as the top three opportunities, which align with preferences for ASHG's future priorities to focus on members' needs.
"These results tell us that members are generally satisfied with what ASHG is doing and eager for us to do more. We're looking forward to creating more ways for our members to benefit and become engaged," said Neil Hanchard, Member of the ASHG Board of Directors, who helped plan and craft the survey.
ASHG plans to use these results to inform the Board's upcoming strategic planning process as well as to continue to create effective and engaging programming, both for our members and for the public. To learn more about the survey results, please plan to attend the ASHG Membership Forum at the 2018 Annual Meeting on Friday, October 19, 12:45-1:45pm, at the San Diego Convention Center.
About the Survey
Survey questions were selected by the Membership Work Group, staff, and the consulting firm McKinley Advisors. They included standard questions used in many scientific association surveys as well as questions specific to ASHG. An optional drawing for an opportunity to win one of ten complimentary registrations to ASHG 2018 Annual Meeting provided a survey completion incentive.
An email with a link to the survey was sent to all ASHG members with a known email address from the past 4 years, as well as anyone who has attended ASHG Annual Meeting in the past 4 years.
The link was sent on June 13, 2018. Two email reminders were sent and the survey link was closed on June 29, 2018. A total of 1,367 responses were received (a 9% response rate, higher than the industry average for professional societies).