Posted By: Krystal Tsosie, MPH, MA, 2019-21 Human Genetics Scholar
As an ASHG Human Genetics Scholars Initiative awardee, I want to thank the Society for enabling my international research endeavors to connect globally with Indigenous scholars.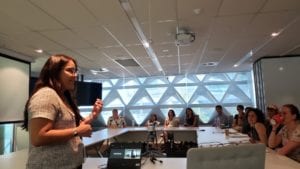 I was invited to present at the SING Indigenous Genomics conference at the University of Waikato in New Zealand last month. SING (Summer internship for INdigenous Genomics) is a workshop for Indigenous participants to discuss cultural and ethical concerns related to genomics. It now includes SING Canada, SING Aotearoa, and SING Australia, as part of the SING Consortium. A recent article by the Washington Post highlights our impact.
As a graduate student, I co-lead a fifteen-year ongoing project studying pre-eclampsia and informed consent in a U.S. Indigenous community. Additionally, I have trained six tribal college students, many of whom are pursuing bachelor and graduate degrees of their own in STEM fields! This role is traditionally not held by a junior scientist, I know.
Considering the lack of tribal participants in genome-wide association studies and the push to increase Indigenous representation in precision medicine research, I am grateful to all those who realize the importance of empowering Indigenous scientists to direct genomics research in our own tribal communities.
Keeping Global Indigenous Genomic Data Local
In that same context, it is important for Indigenous people to govern genomic data under their own research regulatory structures. Past and current efforts to collectivize biomarkers from Indigenous people without their full consent or approval has fostered distrust of these technologies, which contributes to disparities in research and health outcomes.
After the conference, I visited other Indigenous researchers in Australia and New Zealand who are helping co-create Indigenous biobanks with Indigenous community members. I am also a co-founder of the Native BioData Consortium, a biobank on the Cheyenne River Sioux Tribal reservation in South Dakota. For us, we want to move the field of genomics forward for our people by helping Indigenous people drive the research process.
To bring this full circle, I would like to highlight the recent article "Necessary Voices" published in Nature Genetics earlier this month. As a sponsor of the SING Indigenous conference, they published this powerful message of support after the meeting:
"As a journal that aims to serve all members of the genetics community, Nature Genetics pledges to be inclusive in its practices and to support research across all populations and areas. We also recognize the unique talents, ideas and perspectives brought by Indigenous scientists, and that overlooking these would be our loss. Among the many things that we can do to promote diversity, remaining open to input is one of the most important."
So I want to thank ASHG for being an excellent supporter of this travel excursion, and for the Society's support in increasing and empowering diverse voices as the field of genomics continues to advance forward. Ahéhée'.
Krystal Tsosie, MPH, MA, is a 2019-21 Human Genetics Scholar and a doctoral student at Vanderbilt University. She has been an ASHG member since 2013.