Nascent Transcript Author: Anna Miller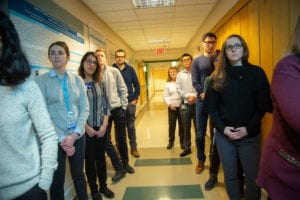 A recent decision by the pharmaceutical company Novartis to provide 100 free gene therapy treatments for spinal muscular atrophy (SMA), a debilitating yet rare genetic condition, to patients selected through a lottery program has sparked debate about the ethical implications. SMA is a rare autosomal recessive genetic disorder caused by loss of function mutations in the SMN1 gene that affects 1 in 10,000 live births. SMA is associated with degeneration of spinal and lower bulbar motor neurons that leads to impaired voluntary muscle movement such as speaking, walking, breathing, and swallowing, and it is the leading inherited cause of infant mortality. 
In May 2019, the FDA approved a gene therapy treatment option, Zolgensma, for SMA pediatric patients under two years of age with bi-allelic mutations in the SMN1 gene. As the first approved gene therapy to treat a rare, monogenic disease, Zolgensma is designed to provide a functional copy of the human SMN1 gene to halt disease progression through a one-time intravenous infusion.
The $2.1 million U.S. dollar price tag of the treatment first announced by AveXis (the company within Novartis providing the drug) has earned Zolgensma the position as the world's costliest single-dose treatment currently available, even though that amount is still half that of the 10-year cost of the alternative FDA-approved SMA treatment option, Spinraza, which must be taken for the rest of the patient's life to improve motor ability. Still, the price is a prohibitive hurdle for families of SMA patients as it is only covered by some insurance plans. In addition to expense, country of origin also is also a barrier to treatment as regulatory decisions have been delayed in countries such as Europe and Japan, limiting the availability of Zolgensma in these areas.
To improve access to SMA treatment, Novartis announced a plan to give away 100 doses of Zolgensma at no cost in 2020 through a lottery program. They opened submissions on January 2 and will give the first allocation in February to patients outside of the United States, providing patients in countries where Zolgensma is not yet approved first priority in receiving medication. 
While Novartis's free Zolgsma initiative has generally been met with great enthusiasm, some groups have reservations about the means of selection, calling it a "Russian roulette." An SMA advocacy group, TreatSMA, commented, "Given the lack of access to any SMA treatment in many places, we are yet to be convinced that a health lottery is an appropriate way of meeting the unmet medical needs." Parents of children with SMA also think the lottery is a difficult situation. Ricardo Batista, a father of a five-month-old daughter with SMA, said, "It's a lottery where we're leaving children's lives up to chance. I don't think it's a game that any of us want to play." 
Nonetheless, patients have extra chances if they are not chosen in the first draw. A British SMA advocacy group commented, "'Unlucky' patients not chosen would be entered into subsequent draws until eligibility expired." Eligibility is limited to patients under two years of age that meet AAV9 antibody level thresholds associated with more effective treatment outcomes.
Many such as Rajdeep Patgiri, the father of an SMA patient who relocated from the United Kingdom to the United States to be able to receive Zolgensma, felt that the lottery was a net positive, despite ethical concerns. He worried that the negative attention of the lottery may prevent patients from receiving treatment. According to Patgiri, "the best outcome for all patients would be if everybody could get the treatment. Given all the constraints, a lottery is probably the fairest way to determine who receives the treatment."
Novartis developed the plan with fairness in mind through the assistance from unreported bioethicists. The company was advised to avoid creating complicated criteria as it would unfairly discriminate against some patients. They have agreed publicly that the lottery solution causes a difficult ethical dilemma with no perfect solution. Nonetheless, a Novartis spokesman described their long-term commitment to the lottery program as "anchored in principles of fairness, clinical need and global accessibility to best determine the equitable global distribution of a finite number of doses that doesn't favor one child or country over another."