ASHG's Virtual Career Fair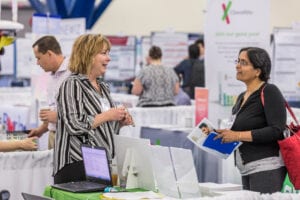 Join us for ASHG's Virtual Career Fair on February 17, 2021! Meet recruiters and representatives of different academic institutions, organizations, and companies offering positions in genetics and genomics. ASHG trainees, early career professionals, and anyone looking to transition into a new career or position are welcome to attend. Registration is free for all attendees. Job listings from employers will appear on the ASHG Career Center website. Check back often for new listings!
Attendees and jobseekers will also have an opportunity to network with mentors, peers, and potential employers in an informal setting based on your career field and topics of interests. Career Coaches will be available to review resumes/CVs, provide interview tips, and career counseling in 15 min intervals (sign-up will open soon).
Date: Wednesday, February 17, 2021
Time: Doors open at 10 am ET and close at 3 pm ET
Recruiters are required to be at their assigned tables from 11- 2 pm ET but may be available for the entire time of the Career Fair.
How to Prepare for the Career Fair
Create an account on the ASHG Career Center and post your resume/CV for potential employers
Attend ASHG's Career Development Committee moderated webinar on Wednesday, February 10, 2021 at 12 pm ET
Virtual Exhibits 
Virtual exhibits are available for recruiting companies and organizations! Click here for the Career Fair prospectus. 
Ready to sign up? Register for an exhibit booth here.
Questions? Please send an email to exhibits@ashg.org to request more information.
Attendee Registration
For additional questions about the Virtual Career Fair, contact Katy Brown at kbrown@ashg.org.