While summer in Washington D.C. is usually a quiet time – both the U.S. Senate and the House of Representatives traditionally break for a recess for most of the month of August – this year is looking to be the exception.  Congress is having a busier summer than usual as legislation for politically charged issues like infrastructure, transportation, defense policy, and climate change is considered and debated.  Despite these competing priorities, the annual appropriations process – by which the U.S. Congress sets the next year's funding levels for government agencies like the National Institutes of Health (NIH) – is moving along.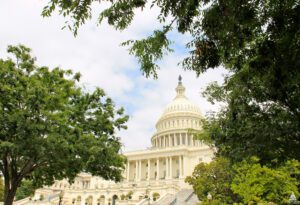 On July 29, the House passed appropriations legislation that would set fiscal year (FY) 2022 funding for several federal departments and agencies of note to the biomedical research community, including NIH and the rest of the Department of Health and Human Services (HHS).  The individual bills included in this package had been approved by the House Appropriations Committee earlier in July.  Bills for other research funding agencies, including the National Science Foundation and the Department of Defense, have yet to be passed by the House.
The appropriations bill passed by the House would provide $49.4 billion for NIH, an increase of $6.5 billion above last year's enacted funding level.  Notably, $3 billion would be used to establish the Advanced Research Project Agency for Health (ARPA-H), provided that Congress passes separate legislation to officially create the new agency.  ARPA-H, President Joe Biden's signature biomedical research policy initiative, would focus on accelerating the pace of biomedical innovation by using nontraditional methods (such as time-limited, milestone-based contracts and significant program manager autonomy in project selection) to support advanced research and development.  Leaders from the Biden Administration, including NIH Director Dr. Francis Collins and White House Office of Science and Technology Policy (OSTP) Director and 2018 William Allan Award winner Dr. Eric Lander, articulated their vision for ARPA-H in a recent Science article.  NIH and OSTP are also working to gather feedback from the biomedical community on ARPA-H's proposed mission, structure, and function through a series of listening sessions.  ASHG President Gail Jarvik's remarks from the August 11 session can be found here.
In addition to ARPA-H, several other Biden Administration research priorities for NIH are included in this package, such as $330 million in new funding for health disparities research.  The package would also provide continued support – $541 million in FY 2022 – for the All of Us precision medicine initiative, and each Institute or Center at NIH would receive at least a five percent increase to its budget.  More detailed analysis of the House's proposed funding plan for NIH in FY 2022, including specific proposed funding levels for each Institute or Center, can be found here.
With the House package passed, attention now turns to the Senate.  The Senate Appropriations Committee has not yet begun to consider NIH funding levels for FY 2022, although it has made some progress on bills that would fund other areas like agriculture and energy.  After the Senate crafts and passes its own NIH appropriations bill, any differences between the House and Senate packages will need to be resolved before a final FY 2022 funding level for NIH can be set.  If Congress fails to pass legislation before the end of the current fiscal year on September 30, the federal government will likely operate under a stopgap measure called a Continuing Resolution (CR) for several weeks or months starting on October 1 to prevent the government from shutting down. This would likely mean that the NIH budget would be frozen at its current level until Congress can agree on spending levels for the next year.  Despite this technical hiccup, there is still strong bipartisan support for NIH funding in Congress, and the prognosis for the NIH budget in FY 2022 is good.
As Congress moves through the rest of the appropriations process, there will be opportunities to engage with elected officials to thank them for their past support for biomedical research and to encourage their support for robust funding for NIH in FY 2022.  To stay updated on the latest in science policy and advocacy, and to learn more about how you can be an advocate for human genetics and genomics research, join the ASHG Advocate community.