Posted By: Lyly Luhachack, PhD, Policy & Advocacy Specialist, ASHG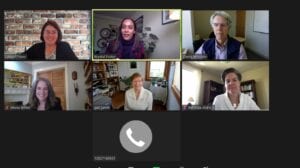 April 22, 2021, marked the first-ever ASHG Capitol Hill Day. The Government and Public Advocacy Committee (GPAC), ASHG President Gail Jarvik, MD, PhD, Dana Crawford, PhD, Diversity, Equity, and Inclusion Task Force (DEITF) Chair, and leaders of the Career Development Committee (CDC) met, virtually, with key congressional offices. Our advocates urged Congress to support increasing NIH's budget, provide research recovery funding for labs disrupted by COVID-19, and support diversity in both the research workforce and participants.
Representing the Society, the committee volunteer leaders shared their professional stories, compelling congressional offices to connect genetics and genomics research with real people, real experiences, and real impacts. Dr. Jarvik said, "…by meeting face-to-face with lawmakers, scientists can create a personal connection while sharing their expertise in order to advance research funding."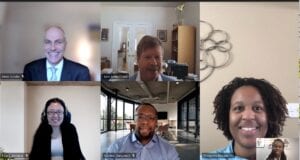 Danjuma Quarless, PhD, CDC incoming chair, AbbVie, on his experience: "Engaging with lawmakers at the virtual ASHG Hill Day served as a positive reminder of the commitment of congressional leaders to advance biomedical research. The opportunity also highlighted the need for scientific advocacy regarding public funding and the importance of openly communicating with elected officials to understand the challenges we face holistically. Ultimately, I was proud to represent the American Society of Human Genetics with society leaders, and to have discussions that could potentially impact the ability of others to conduct genetics and genomics research in the future."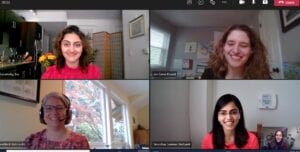 Saumya Sisoudiya, current CDC co-chair, described how COVID-19 has impacted her lab and as a graduate student at Baylor College of Medicine. "I really enjoyed my conversations with the Congressional staff members. I spoke to them about how the pandemic has adversely affected the research enterprise, emphasizing the need to support legislation that helps in extending grant deadlines and funding. It was encouraging to see how eager they were to engage about even the seemingly small details (like projects being delayed due to reagents being back-ordered). ASHG Hill day was overall a great experience and I would highly encourage my fellow trainees to participate in advocacy opportunities!"
As noted in the latest ASHG Perspective, a priority of ASHG's Board of Directors is to engage with lawmakers on realizing the benefits of genetics and genomics research for people everywhere and the need for policies to support the scientific enterprise.  Melinda Aldrich, PhD, GPAC member, summed up Hill Day with, "Meeting with our Congressional representatives was a valuable experience. I came away feeling as if our representatives valued our interactions and will reach out to ASHG scientists as experts when considering future scientific legislation involving either genetics research or our workforce."
The Capitol Hill Day was organized by the GPAC. Holding such events is part of GPAC's Board-approved Action Plan as a way to support our members in celebrating and advocating for human genetics and genomics research to policymakers. The GPAC plans for this Capitol Hill Day to be the first of many.
Please visit ASHG's Advocacy Center and get involved by becoming an ASHG Advocate!