Contributing Author: Anna Miller, BA
Robin Aguilar (they/them/elle) is a Ph.D. Candidate at the University of Washington in the Department of Genome Sciences developing software tools to study and image satellite DNA. Beyond their thesis work, Robin develops curricula, shares their experiences via writing, and creates art to make STEM and genomics more accessible. Robin recently published a Nature Career Column paper titled, "Breaking the binary by coming out as a trans scientist" and Anna Miller had the opportunity to ask them a few questions about their experiences.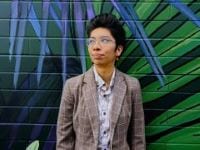 Anna Miller: You depict some of the microaggressions and emotionally exhausting experiences you have experienced as a graduate student with multiple marginalized identities that have been historically-excluded in STEM. How do you care for yourself and stay motivated to continue in the field?
Robin Aguilar: While I love the science that goes into my research toward developing technologies in genomics and imaging, sharing experiences, mentoring others, and creating art, are all important aspects of my journey. Storytelling is also incredibly meaningful to my cultures. Sharing my work with family, friends, and community outside of science continues my ongoing journey with self-love and supports my communities outside of my research. This bigger picture helps me contextualize myself in science as an advocate and mentor for other queer and trans people of color in STEM. Beyond this, good fiction, houseplants, time with my loved ones and conversations with friends and mentors bring me joy.
AM: What advice do you have for trainees working to build inclusive spaces? 
RA: If trainee-led organizing provides you with positive energy, identify peers and mentors who are motivated to build community. It's incredibly important to document everything (founding documents, budget, event calendars, etc.) and evaluate if your organization's leadership is working toward creating accessible and uplifting spaces. Even more so, recording your efforts is critical so that others who come after you can create meaningful change and understand what challenges were overcome by past leaders. It's also essential that trainees continue their own education with advocacy because a lot of well-meaning individuals can cause harm without understanding the historical and current contexts of their work within and outside of academia.
AM: How has your experience been since publishing this paper?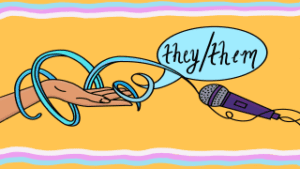 RA: Although publishing this piece was an emotional process, I'm grateful for the support from my advisors, mentors, friends, and editors who encouraged me to share my experiences in STEM. I've felt relieved because this piece was in the works since my first year of graduate school. I want to further explore how I'm navigating my gender, lived experiences in STEM, and personal milestones through writing. Hopefully, this piece inspires others to share their own stories. Even more so, I wanted to share that inequities for trans and gender nonconforming people exist within academia and changes in pedagogy and leadership are crucial first steps toward uplifting queer voices and trans futures in STEM.
AM: How have you merged your art and science?
RA: I wanted to communicate through art from a very young age. Growing up in L.A., my dad had collected some Spanish-language Marvel comics that I'd sometimes skim, where I fell in love with visual art in storytelling. In college, I nearly pursued a major in studio art but realized I would be overwhelmed by lab and studio hours. Although I was worried pursuing art would remain a hobby, I've continued to use illustration in communicating my research and experiences in science. I would someday love to host workshops and community spaces for storytelling for fellow queer trainees so that they can share their voices! So, in this art piece that I've shared, I wanted to convey that my coming out story involved taking space to introduce myself with my name and pronouns.
AM: What is something you are working on that you are excited about?
RA: One side project I'm working on is a series of Medium articles, how-to guides, and zines on navigating graduate school while sharing my own experiences. I didn't have any family members or personal connections to anyone who had completed graduate school, I wanted to build a resource to help others reflect on their own experiences in STEM. I hope that my own identities and lived experiences can provide perspective on how I've navigated academia so others can identify their needs to make positive change in their own communities.