For Immediate Release
Wednesday, July 5, 2017
12:00 p.m. U.S. Eastern Time
Media Contact:
Nalini Padmanabhan
ASHG Communications Manager
301.634.7346
press@ashg.org
Geneticist to Receive Award at ASHG 2017 Annual Meeting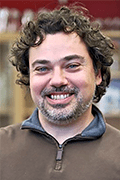 BETHESDA, MD – The American Society of Human Genetics (ASHG) has named Nicholas Katsanis, PhD, Director of the Center for Human Disease Modeling, Professor of Cell Biology, and Brumley Distinguished Professor of Pediatrics at Duke University, as the 2017 recipient of the Curt Stern Award.
This annual award, named for the late pioneering geneticist Curt Stern, PhD, recognizes genetics and genomics researchers who have made significant scientific contributions during the past decade. ASHG will present the award, which will include a crystal plaque and $10,000 prize, on Tuesday, October 17, during the organization's 67th Annual Meeting in Orlando, Florida."I am deeply humbled by this honor," said Dr. Katsanis. "I cannot adequately express how gratifying it is to have the work recognized by my peers, my colleagues, my perpetual mentors."
Dr. Katsanis began his career studying Bardet-Biedl syndrome (BBS), leading the discovery of several BBS genes and the establishment of the ciliopathies as a discrete entity. His lab continues to investigate the molecular causes behind ciliary disorders, with emphasis on the signaling roles of cilia, the mechanisms behind how genes interact to cause rare genetic disorders, and possible treatments for these conditions. In 2009, he established the Center for Human Disease Modeling at Duke University, which aims to facilitate collaboration across disciplines and to develop physiologically relevant, scalable tools to study variation among human patient genomes.
A member of ASHG since 2001, Dr. Katsanis belonged to the Society's Program Committee from 2010-2013 and has served on its Board since 2016. In recognition of his work, he received the Young Investigator Award from the American Society of Nephrology in 2009 and the E. Mead Johnson Award from the Society for Pediatric Research in 2012. He has published over 250 research papers, reviews, and book chapters; served on several committees and boards; and delivered lectures in 25 countries.
About the American Society of Human Genetics (ASHG)
Founded in 1948, the American Society of Human Genetics is the primary professional membership organization for human genetics specialists worldwide. Its nearly 8,000 members include researchers, academicians, clinicians, laboratory practice professionals, genetic counselors, nurses, and others with an interest in human genetics. The Society serves scientists, health professionals, and the public by providing forums to: (1) share research results through the ASHG Annual Meeting and in The American Journal of Human Genetics; (2) advance genetic research by advocating for research support; (3) educate current and future genetics professionals, health care providers, advocates, policymakers, educators, students, and the public about all aspects of human genetics; and (4) promote genetic services and support responsible social and scientific policies. For more information, visit: http://www.ashg.org.
9650 Rockville Pike | Bethesda, MD 20814 | 301.634.7300 | society@ashg.org | www.ashg.org
Connect with ASHG on Twitter (@GeneticsSociety) | Facebook | LinkedIn