Media Contact:
Nalini Padmanabhan
ASHG Communications Manager
301.634.7346
press@ashg.org
For Immediate Release
Tuesday, June 28, 2016
9:00 am U.S. Eastern Time (UTC-04:00)
Geneticist to Receive Award at ASHG 2016 Annual Meeting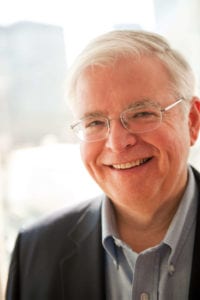 BETHESDA, MD – The American Society of Human Genetics (ASHG) has named James Gusella, PhD, Bullard Professor of Neurogenetics in the Department of Genetics at Harvard Medical School, Research Staff in the Department of Neurology at the Massachusetts General Hospital (MGH), and an Associate Member at the Broad Institute, the 2016 recipient of the annual William Allan Award.
The Allan Award, which recognizes a scientist for substantial and far-reaching scientific contributions to human genetics, was established in 1961 in memory of William Allan, MD (1881-1943), one of the first American physicians to conduct extensive research on human genetics and hereditary diseases. Dr. Gusella will receive his award, which will include an engraved medal and $25,000 prize, on Wednesday, October 19, during ASHG's 66th Annual Meeting in Vancouver, British Columbia. He will present his William Allan Award address immediately thereafter.
As first Director of the MGH Center for Human Genetic Research, Dr. Gusella pioneered the "genetic research cycle" paradigm to conceptualize genetics research from basic science to genotype-driven modeling, based on associations with human disease and translation into diagnostics, treatments, and prevention strategies. He has led numerous national and international research consortia with broad impact on human disease. In 1983, Dr. Gusella and colleagues published a seminal study that used recombinant DNA technology to link DNA markers to the mutation causing Huntington disease (HD). Over the following years, he and his colleagues cloned the HD gene, located its stretch of repeated DNA, showed that the size of that stretch is correlated with age of disease onset and age of death, described how it causes disease, and identified genetic factors that affect how quickly symptoms develop.
Dr. Gusella's lab and collaborators have mapped and identified the genes associated with many other neurological conditions, such as amyotrophic lateral sclerosis (ALS) and Alzheimer disease, as well as neurodevelopmental disorders, such as autism. Dr. Gusella was an early advocate of broad collaboration focused on conditions caused by the rearrangement of chromosomes, co-founding the Developmental Genome Anatomy Project in 1999. He continues to develop novel genome-wide strategies to identify genes critical to human development.
A longtime member of ASHG, Dr. Gusella has received numerous awards throughout his career, including the National Health Council Award for Medical Research in 1993, the J. Allyn Taylor International Prize in Medicine in 1994, the Dana Award for Pioneering Achievement in Health in 1998, and the Robert S. Dow Award for Neuroscience in 2004. He was named a Fellow of the American Association for the Advancement of Science in 2007, and has published nearly 600 articles in the scientific literature.
About the American Society of Human Genetics (ASHG)
Founded in 1948, the American Society of Human Genetics is the primary professional membership organization for human genetics specialists worldwide. Its nearly 8,000 members include researchers, academicians, clinicians, laboratory practice professionals, genetic counselors, nurses, and others with an interest in human genetics. The Society serves scientists, health professionals, and the public by providing forums to: (1) share research results through the ASHG Annual Meeting and in The American Journal of Human Genetics; (2) advance genetic research by advocating for research support; (3) educate current and future genetics professionals, health care providers, advocates, policymakers, educators, students, and the public about all aspects of human genetics; and (4) promote genetic services and support responsible social and scientific policies. For more information, visit: http://www.ashg.org.
9650 Rockville Pike | Bethesda, MD 20814 | 301.634.7300 | society@ashg.org | www.ashg.org
Connect with ASHG on Twitter (@GeneticsSociety) | Facebook | LinkedIn