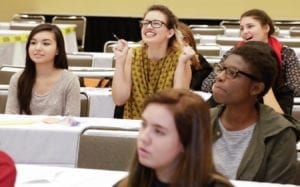 ASHG envisions a future with an informed public that continues to understand basic genetic concepts, receives equitable access to genetic information, and understands and appreciates humanity's diversity. To achieve this, the Society has exhibited at a few 2020 conferences for the science-interested public and science educators. The goal of attending these conferences was to increase awareness of ASHG and its resources, as well as connect with a larger public community.  
During the month of October, ASHG exhibited at SciFest All Access, the virtual version of the USA Science and Engineering Festival. When held in-person, this event welcomes hundreds of thousands of STEM students, teachers, and accompanying parents. Attendees look to be welcomed and wowed by the exhibits, speeches, and demonstrations at this event. ASHG was ready with resources for the 75,400 registrants from all 50 states and 99 countries. Members of the Public Education and Awareness Committee (PEAC) teamed up with ASHG staff to answer questions from attendees and share ASHG's resources. The Society's booth resources included background information about the organization, such as who we are and what ASHG and our members do. In addition, ASHG shared resources for STEM students to pursue their interests, including Discover Genetics, the DNA Day Essay Contest, the GENE Network, and 6 Things Everyone Should Know about Genetics. PEAC members met attendees with enthusiasm and encouragement to pursue their scientific interests. They answered a range of questions, which touched on topics from inheriting conditions to research and career advice. Despite originally being scheduled for the first week in October, SciFest All Access received such positive feedback from attendees that the event was extended to last the whole month of October. ASHG was thrilled to have increased connection with this important audience.  
Fresh off the ASHG 2020 Virtual Meeting, ASHG continued to share its public education resources at the 2020 National Association of Biology Teachers (NABT) Professional Development Conference​. This event connects biology teachers with their colleagues, exhibitors, and leaders in biology and life sciences. Connecting with teachers is especially important to ASHG's mission and vision, as this group often introduces future geneticists to this topic. Similarly, ASHG is uniquely positioned to provide teachers with resources that can be utilized both for virtual and in-person teaching. From November 5-7, 650 attendees participated in the live event during which they obtained resources they could bring directly back to their classroom. ASHG promoted educational resources, such as the online connection option in the GENE Network which allows teachers to set up a video meeting between an ASHG member and students, fact sheets about Huntington Disease and Direct-to-Consumer Ancestry Tests, and resources to teach evolution. Nearly 100 NABT attendees visited the ASHG booth over the two-and-a-half-day event.  
SciFest All Access and the 2020 NABT Professional Development Conference were exciting and meaningful events to connect with the next generation of scientists and those who foster their growth and education. In addition, these events bring more attention to human genetics and genomics research and its benefits. The Society looks forward to continuing its participation in this event!