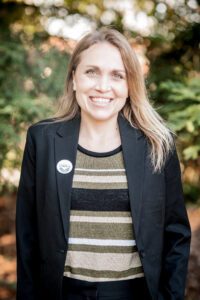 Katharine Nichole Holm, PhD,  joined ASHG as the ASHG/NHGRI Genetics & Public Policy Fellow in August. ASHG and the National Human Genome Research Institute (NHGRI) co-sponsor the Genetics and Public Policy Fellowship to give early-career professionals the opportunity to explore a career in science policy. We spoke with Dr. Holm to learn more about how her background and interests led her to ASHG's fellowship.
ASHG: Why did you apply for the ASHG/NHGRI Genetics & Public Policy Fellowship?
Nichole: I have been interested in the fellowship since I first learned about it four years ago, and the unique opportunity it provides to address health policy from the perspective of genetics through each branch of government, including the non-profit sector. As I began working in and around science policy, I realized my passion more specifically for health policy and learning how I could help others through science policy. It is a privilege to be able to work alongside and learn from career professionals in genetics and health policy, especially as the field becomes increasingly relevant today.
ASHG: How did your background lead you to science policy?
Nichole: My interest and work has always been in clinically-focused research, as my personal experience with health abnormalities and disease in my family inspired me to help find answers for similarly positioned patients. In research, I found the greatest potential for these answers in genetics/genomics, and became interested in how these findings are translated into actionable policy goals. The tipping point however, was when I discovered that a genetic mutation in my family was the cause of our history of disease and the obstacles to diagnosis, discrimination protection, and insurance coverage for us as well as those with other inherited risk factors.
The world of science policy is enormous, and I see a role for science and data-informed decisions in all sectors of policy. As healthcare continues to be revolutionized by personalized health data and precision medicine, I see a crucial role for integrating genetics/genomics in healthcare as well as addressing historical inequalities through science with the lens of ethical, legal, and social implications of this work.
ASHG: Why do you think is it important for scientists to get involved in policy?
Nichole: From my perspective, good scientists are able to bring evidence-based options to the decision table – which is incredibly important when addressing complex issues. When making or changing policy, many different opinions are often presented, but scientists provide the opportunity to approach an issue with data behind their opinions. Scientists are constantly at work to generate incredibly valuable information that can directly help others and guide policy change, but that work falls short of its potential unless scientists are actively involved in policy to bridge the gap between the research lab and policy table.
ASHG: What are some policy issues related to genetics and genomics research that you think will be important to address?
Nichole: The most obvious may be the role of genetics and genomics in healthcare/medicine – such as the ways in which we access and utilize health data to inform more precise health decisions for the prevention and treatment of disease. Genetics in healthcare also underscores the importance of privacy, discrimination protection, and comprehensive insurance coverage protection.
Genetics and genomics also highlights the lack of biological basis for the current racial classification system in the U.S., and provides a foundation to re-assess the way we classify race and ethnicity.
Additionally, improved education in genetics is also essential as the relevance of this field permeates nearly every corner of our world today. From the use of Direct-To-Consumer testing and inherited genetic risk factors for disease, to the development of mRNA vaccines and the misunderstandings arose during the COVID-19 pandemic, and even the use of DNA in criminal investigations, genetic literacy has become increasingly more important to ensure people understand the role of genetics in their daily lives.
ASHG: Do you have any advice for fellow scientists interested in science policy careers?
Nichole: I can't recommend policy fellowships, like the ASHG Genetics and Public Policy fellowship, enough to scientists interested in policy as they are the best way to experience science policy in action. There are also many new state-policy fellowships that provide the opportunity to work in state government as a science policy fellow.
For scientists with a new interest in science policy, I also recommend reaching out to local government offices or government-liason offices at academic institutions, to see where they can become more involved in policy at a local level and learn from others already working in these fields. I have found science policy to be a fascinating world of applied science to real-time problems, and there are so many more opportunities to work as a scientist in policy than I realized when I first became interested in the field.