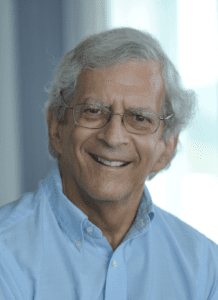 The National Institute of Aging (NIA) leads NIH's research on the biological, clinical, behavioral and social aspects of aging. Dr. Richard Hodes has served as director of the institute since 1993.  We spoke with Dr. Hodes recently about NIA's priorities, the institute's investments in human genetics and genomics research, and NIA's commitment to addressing structural racism in biomedical research.
ASHG: What are NIA's top current priorities and what are the ways in which the Institute is pursuing them?
Dr. Hodes: NIA leads a broad scientific effort to understand the nature of aging and to extend healthy, active years of life. Aging is the most significant risk factor for the development of many chronic diseases, including cancer, diabetes, and Alzheimer's disease. As the lead federal agency for Alzheimer's research, NIA has made large research investments to discover what causes neurodegenerative diseases and how to prevent, diagnose, and treat them. See our Strategic Directions for Research.
ASHG: What are NIA's greatest challenges and opportunities in enhancing our understanding of aging and humans enjoying longer, healthier lives?
Dr. Hodes: NIA supports and conducts research to better understand the aging process, as well as the diseases, conditions, and needs associated with growing older. Our role is to spur discovery in basic, clinical, sociobehavioral, and translational research. As a federal agency, NIA has been investing in infrastructure to better enable sharing of DNA, other biosamples, and data, including genetic data from large-scale sequencing centers, so that qualified investigators can better collaborate and advance knowledge. For the Alzheimer's Genetics Portfolio, investigators are striving to recruit 18,000 cases and 18,000 controls from among volunteers of African American, Hispanic, and Asian ancestry. By 2025, we hope to have more than 100,000 diverse research participants. This effort will help to identify therapeutic targets that may vary by racial or ethnic group.
ASHG: NIA has a greater human genetics and genomics research portfolio than most NIH institutes and centers. How has NIA's genetics research portfolio changed and grown during your time as director of the Institute and what recent research advances on the genetics of age-related diseases most excite you?
Dr. Hodes: Over the years that I have led NIA, our research portfolio has grown in reflection of the new opportunities afforded by applying advanced sequencing techniques, genome editing methods, and artificial intelligence to analyze the data. We have invested much of our efforts in investigations of the genetic influences for Alzheimer's and related neurodegenerative disorders. The Genetics of Alzheimer's Disease research portfolio is aimed at the discovery of therapeutic targets, and our progress includes the large-scale Alzheimer's Disease Sequencing Project, which involves more than 275 international investigators at 33 institutions with more than 70 cohorts of research participants.
What most fascinates us is the complexity of the genetic and epigenetic mechanisms involved in neurodegenerative disorders and other aging processes. Ten years ago, we knew of only 10 genes associated with Alzheimer's, and now scientists have linked more than 50 loci to Alzheimer's. Of particular interest are the sociobehavioral factors that interact with genetic mechanisms during the aging process to contribute to disease development.
Beyond brain aging, NIA's genetics research portfolio includes many other programs:
ASHG: Over the past year, you have pledged that NIA will bolster its work on addressing structural racism in biomedical research and expressed your strong support for the UNITE Initiative. How is NIA involved in UNITE and what are some of the other ways that NIA is working to enhance racial equity in research?
Dr. Hodes: In March 2021, NIH established the UNITE initiative to address structural racism and promote racial equity and inclusion. Dr. Michele Evans, NIA's deputy scientific director, is co-chair of the UNITE committee that is focused on health disparities, minority health, and health equities research, and Dr. Patricia Jones, director of NIA's Office of Special Populations, is serving on the UNITE committee focused on the extramural research ecosystem. NIA works to diversify the aging research workforce through the Office of Special Populations, which administers programs and activities to support career development and training for the biomedical workforce. For information about specific programs, see NIA's Scientific Workforce Diversity and Health Disparities Research Programs.
ASHG: How can ASHG members stay up to date with NIA's work?
Dr. Hodes: The easiest way for ASHG members to keep abreast of NIA research priorities and training opportunities is to subscribe to Inside NIA: A Blog for Researchers. Our website offers information about NIA-supported scientific advances, including news about genetics research. Members can also stay connected with us by joining our email list and following us on Twitter.