Posted by: Sarah Robbins, PhD, 2019-2020 Genetics Education and Engagement Fellow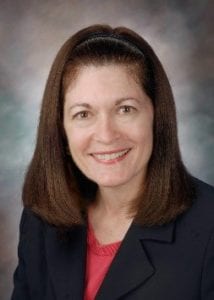 ASHG recently engaged with members and the public through Twitter by sharing facts about each human chromosome throughout the month of April. As a follow-up activity, ASHG organized the Chromosome Clash, a March Madness-style bracket for followers to vote on their favorite chromosome. Chromosome 18 beat out all 23 other chromosomes to emerge as champion, thanks in part to the activism of the Chromosome 18 Registry and Research Society. We spoke with founder and ASHG member Jannine Cody, PhD about her Society, her research, and why Chromosome 18 means so much to her and other families.
ASHG: Tell us briefly how you got involved in Chromosome 18 research. We'd love to highlight your personal story.
Dr. Cody: I was always the science nerd from as far back as I remember. I wanted to work in a lab. My grandfather had a veterinary lab in Iowa. My father ran the business side and my aunt worked in his lab. As an undergrad I was a part-time lab tech in a biochemistry lab. But I had no interest or intention of having my own lab. Then my daughter Elizabeth was born in 1985 and diagnosed with 18q-. I was shocked by two things: how little was known about the condition and by all the amazing medical subspecialties that I had no idea existed. I did know the Human Genome Project was being planned, so I knew that one day we would know what all the genes on chromosome 18 were and what they did. We were blessed with fabulous medical care for Elizabeth, and over the first years we learned a lot. By the time she was 5, I decided I needed to find other families to share what I had learned and find out what they had learned. This is when we started the Chromosome 18 Registry and Research Society, and I went to my first ASHG Annual Meeting in 1990. After reading many papers and talking to many people, I could not find anyone who was doing what we, the families, needed to have done. We needed clinical and behavioral understanding integrated with the emerging molecular genetics. So, I enrolled in graduate school, during which I could start on my project almost immediately.
ASHG: Can you share an interesting finding in current chromosome 18 research?
Dr. Cody: As you know, research is so incremental and made up of many baby steps and chromosome abnormalities are so multifaceted. This makes it hard to identify one specific breakthrough. At the moment, I am most excited about our Gene Dosage Map. This brings together the huge advances in the molecular biology of individual genes with our extensive data on almost 700 people with chromosome 18 abnormalities. You can go to the map on our website and look up a region of the chromosome and see all the high and low penetrance phenotypes associated with a deletion or duplication of that region. Many phenotypes are associated with specific genes but some are associated with small critical regions. For families and physicians treating these individuals with non-recurrent CNVs, this is incredibly useful. It not only limits the potential number of phenotypes but provides perspective regarding penetrance. Many phenotypes associated with gene deletions are less than 50% penetrant.
ASHG: What makes you so passionate about Chromosome 18 advocacy? 
Dr. Cody: Of course, it is the people! It is the amazing people with chromosome 18 conditions who have to work so hard to accomplish what so many of us take for granted. Then of course, there are the siblings who provide such amazing support, but who also keep it real. My closest friends in the world are other chromosome 18 parents. They all bring something unique to the quest to make our kids' lives better.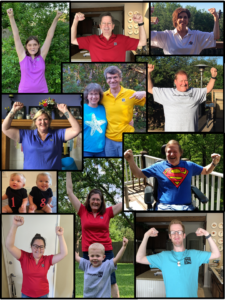 ASHG: How can social media be used to connect researchers, advocates, patients, and families?
Dr. Cody: I am the wrong person to ask about that. I had to sign up for Twitter in order to do the Chromosome Clash. But today this is how people communicate and how they learn. So this is how we have to learn to reach people. We have to learn how to reach people in 3-minute bites. I know that is incredibly difficult. If this were easy, we would all already be doing it. It is something we each must master – the NIH budget depends on scientists' ability to explain what we do and why it is important to the public!
ASHG: What can other researchers learn about interacting with both patient and research communities from your experience working with the Chromosome 18 Foundation?
Dr. Cody: This could be a book. Get involved. Participate in fundraising events. Go to the annual conferences and don't just appear for your talk and leave. Stay for the whole meeting, eat meals with the families. This is how we learn what is important to those affected which in turn gives us direction and focus.
ASHG: How has being a part of the larger genetics and genomics research community through ASHG facilitated your work on chromosome 18 conditions?
Dr. Cody: Research, especially on a topic with such broad ramifications as chromosome abnormalities, involves collaboration. Collaboration with people interested in any of the 263 genes on chromosome 18 and collaboration with people interested in any one of the many phenotypes associated with a chromosome 18 CNV. ASHG membership is what we all have in common, and the Annual Meeting is when we get to meet face to face. Equally important is ASHG's longstanding embrace of the invested non-scientist community. This includes everything from accepting posters on lay advocacy to having a program for consumers at the Annual Meeting to recognizing the work of Rick Guidotti and Positive Exposure.
Congratulations, Dr. Cody and all Chromosome 18 advocates for your landslide victory in Chromosome Clash!
Now is the time to submit an abstract for the 2020 Annual Meeting to share your science, whether it is clinical, basic research, or advocacy-related. If you are not an ASHG member, we encourage you to join! There are many benefits to membership within the Society, including free abstract submissions, webinars on a whole host of topics, and discounts on research submitted to ASHG's new open access publication, HGG Advances! We look forward to hearing more about your newest advances soon!