Posted by: Katy Brown, ASHG Career and Workforce Development Coordinator
Contributing Author: Anna Miller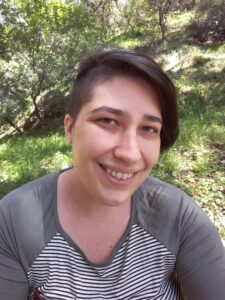 As we discover more complex breakthroughs in genetics and genomics, the need to communicate science is only increasing. The field of science communication is a vital part of the ASHG community and the Nascent Transcript had the privilege of interviewing one scientist who made the career shift from researcher to communicator. Dr. McCreight (They/them) received their Ph.D. in Genome Sciences at the University of Washington and now serves as the Science Communications Senior Program Manager at 23andMe.
Anna Miller: What is the "average" day in your job?
Dr. Jey McCreight: One of the things that I love about my job is that I get to work on a wide range of projects across the company, and no day looks exactly the same. Often I'm reviewing blog posts, scientific publications, conference presentations, social media posts, and more to ensure that they're both scientifically accurate and understandable. I've built websites, organized conferences and webinars, written scripts for educational videos, spoken to classrooms, designed a "DNA wall" with hidden messages for our office… If you can think of a form of science communication, I've probably done it during my 4 years at 23andMe!
AM: Was there a time or event during your PhD that sparked your interest in science communication?
JM: I actually started a blog during undergrad. By the time I began my PhD, I had developed a decent readership and was giving talks to various groups about evolution and genetics. I was incredibly lucky to have a PI who was supportive of me pursuing a career in science communication from the beginning of my PhD, unlike many graduate students who may feel pressured to follow the traditional academic career trajectory. He encouraged me to participate in UW's Engage science communication class, which culminated in us presenting at Town Hall Seattle. It was a fantastic hands-on experience and helped solidify that I enjoyed teaching others about science more than doing the science myself.
AM: What advice do you have for trainees who are considering a career in science communication?
JM: Practice as early and often as you can! There's no better training than actually going out and doing whatever you're interested in. My writing skills developed because I was trying to blog a little bit every day, and that consistency also helped develop an audience. You can't get focused on individual engagement metrics for a particular post, or worry that no one is reading your work. You just need to keep practicing, even if you put out some mediocre stuff in the process – that's how you learn! Twitter is a great place to practice being succinct and to network with other science communicators, even if it's not producing some formal finished product.
AM: What is your favorite science show/podcast/blog/etc?
JM: I particularly love the writing style of Ed Yong at The Atlantic. He does an amazing job at tackling complex scientific topics without oversimplifying them, while also weaving a narrative and making the story relatable. I also love being a part of "Science Twitter" and watching fun music videos from Dr. Raven the Science Maven or spotting lizards with Dr. Earyn McGee.
AM: What is something you are working on that you are excited about?
JM: Later this year, 23andMe will be updating our product so it distinguishes between sex and gender and gives customers more control over relationship labels (e.g., choosing if you want to be referred to as a brother, sister, or sibling). I was an early champion for this project and have been reviewing material both from a science communication perspective and as a non-binary trans person. It's extremely fulfilling to work on a project that directly results in a more inclusive experience for trans people, and also gives us the opportunity to educate the public on the complicated science behind sex and gender.
AM: Any closing thoughts?
JM: You can learn more about 23andMe's research program and see a slice of the science communication projects I work on by following @23andMeResearch on Twitter. Yep, that's me writing those tweets and organizing those webinars!