Research in human genetics and genomics drives discovery and better health. Explore our fact sheets below to learn more about these advances and their applications.
Human Genetic and Genomic Research
Tha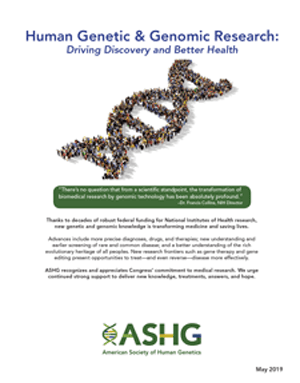 nks to decades of robust federal funding for National Institutes of Health research, new genetic and genomic knowledge is transforming medicine and saving lives.
Advances include more precise diagnoses, drugs, and therapies; new understanding and earlier screening of rare and common disease; and a better understanding of the rich evolutionary heritage of all peoples. New research frontiers such as gene therapy and gene editing present opportunities to treat—and even reverse—disease more effectively.
References
Bamshad, M., Shendure, J., Valle, D., Lupski, J., Gibbs, R., Boerwinkle, E., . . . Center for Mendelian Genomics. (2012). The Centers for Mendelian Genomics: a new large-scale initiative to identify the genes underlying rare Mendelian conditions. American Journal of Medical Genetics A, 1523-1525.
Battelle Technology Partnership Practice. (2013, June). The Impact of Genomics on the U.S. Economy. Retrieved from United for Medical Research: http://www.unitedformedicalresearch.com/wp-content/uploads/2013/06/The-Impact-of-Genomics-on-the-US-Economy.pdf
Estimates of Funding for Various Research, Condition, and Disease Categories (RCDC). (2018). Retrieved from NIH: https://report.nih.gov/categorical_spending.aspx
Integrative Human Microbiome Project (iHMP) Research Network Consortium. (2014). The Integrative Human Microbiome Project: dynamic analysis of microbiome-host omics profiles during periods of human health and disease. Cell Host and Microbe, 276-289.
Khera, A., Chaffin, M., Aragam, K., Haas, M., Roselli, C., Natarajan, P., . . . Kathiresan, S. (2018). Genome-wide polygenic scores for common diseases identify individuals with risk equivalent to monogenic mutations. Nature Genetics, 1219-1224.
NCI Staff. (2018, May 22). FDA Approves Second CAR T-Cell Therapy for Lymphoma. Retrieved from National Cancer Institute: https://www.cancer.gov/news-events/cancer-currents-blog/2018/tisagenlecleucel-fda-lymphoma
New gene therapy strategy for sickle cell disease shows early promise in humans. (2018, December 1). Retrieved from Dana-Farber Cancer Institute: https://www.dana-farber.org/newsroom/news-releases/2018/new-genetherapy-strategy-for-sickle-cell-disease-shows-early-promise-in-humans/
New Guinness World Records Title Set for Fastest Genetic Diagnosis. (2019, February 12). Retrieved from Rady Children's Hospital San Diego: https://www.rchsd.org/about-us/newsroom/press-releases/new-guinness-world-records-title-set-for-fastest-genetic-diagnosis/
NIH Research Grants. (2018). Retrieved from NIH: https://www.nih.gov/news-events/nih-research-grants-digital-press-kit
Posey, J., O'Donnell-Luria, A., Chong, J., Harel, T., Jhangiani, S., …Centers for Mendelian Genomics. (2019). Insights into genetics, human biology and disease gleaned from family based genomic studies. Genetics in Medicine 21 (4):798-812.
Simonti, C., Vernot, B., Bastarache, L., Bottinger, E., Carrell, D., Chisholm, R., . . . Capra, J. (2016). The phenotypic legacy of admixture between modern humans and Neandertals. Science, 737-741.
Thanks to a UNC research project, she can walk again. (2017, August). Retrieved from UNC Health Care: http://news.unchealthcare.org/news/2017/august/thanks-to-a-unc-research-project-she-can-walk-again
It is estim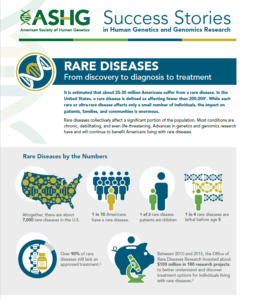 ated that about 25-30 million Americans suffer from a rare disease. In the United States, a rare disease is defined as affecting fewer than 200,0001. While each rare or ultra-rare disease affects only a small number of individuals, the impact on patients, families, and communities is enormous.Rare diseases collectively affect a significant portion of the population. Most conditions are chronic, debilitating, and even life-threatening. Advances in genetics and genomics research have and will continue to benefit Americans living with rare diseases.
References
1 https://www.fda.gov/media/99546/download
2 Austin, C.P., Cutillo, C.M., Lau, L.P.L., Jonker, A.H., Rath, A., Julkowska, D., Thomson, D., Terry, S.F., de Montleau, B., Ardigò, D., et al. (2018). Future of Rare Diseases Research 2017–2027: An IRDiRC Perspective. Clin. Transl. Sci.
3 Dawkins, H.J.S., Draghia-Akli, R., Lasko, P., Lau, L.P.L., Jonker, A.H., Cutillo, C.M., Rath, A., Boycott, K.M., Baynam, G., Lochmüller, H., et al. (2018). Progress in Rare Diseases Research 2010–2016: An IRDiRC Perspective. Clin. Transl. Sci.
4 Splinter, K., Adams, D.R., Bacino, C.A., Bellen, H.J., Bernstein, J.A., Cheatle-Jarvela, A.M., Eng, C.M., Esteves, C., Gahl, W.A., Hamid, R., et al. (2018). Effect of Genetic Diagnosis on Patients with Previously Undiagnosed Disease. N. Engl. J. Med.
5 https://ghr.nlm.nih.gov/condition/cln7-disease#statistics
6 https://www.sciencemag.org/news/2018/10/tailormade-drug-developed-record-time-may-save-girl-fatal-brain-disease
8 https://nri.texaschildrens.org/news/leo%E2%80%99s-story-our-superhero
Figure 2: Boycott, K.M., Rath, A., Chong, J.X., Hartley, T., Alkuraya, F.S., Baynam, G., Brookes, A.J., Brudno, M., Carracedo, A., den Dunnen, J.T., et al. (2017). International Cooperation to Enable the Diagnosis of All Rare Genetic Diseases. Am. J. Hum. Genet.
I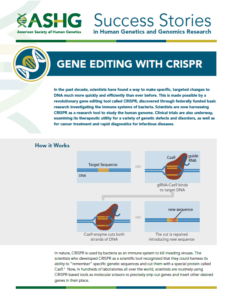 n the past decade, scientists have found a way to make specific, targeted changes to DNA much more quickly and efficiently than ever before. This is made possible by a revolutionary gene editing tool called CRISPR, discovered through federally funded basic research investigating the immune systems of bacteria. Scientists are now harnessing CRISPR as a research tool to study the human genome. Clinical trials are also underway, examining its therapeutic utility for a variety of genetic defects and disorders, as well as for cancer treatment and rapid diagnostics for infectious diseases.
References
Lander, E. S. (2016). The Heroes of CRISPR. Cell, 164(1-2), 18-28. doi:10.1016/j.cell.2015.12.041
https://www.npr.org/sections/health-shots/2020/03/04/811461486/in-a-1st-scientists-use-revolutionary-gene-editing-tool-to-edit-inside-a-patient
E A Stadtmauer et al, Science, 2020, DOI: 10.1126/science.aba7365
https://www.fda.gov/news-events/press-announcements/coronavirus-covid-19-update-daily-roundup-may-7-2020
Noninvasive Prenatal Genetic Screening
In the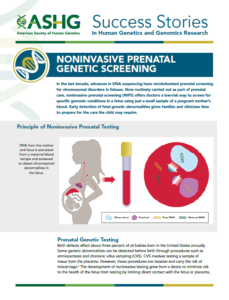 last decade, advances in DNA sequencing have revolutionized prenatal screening for chromosomal disorders in fetuses. Now routinely carried out as part of prenatal care, noninvasive prenatal screening (NIPS) offers doctors a low-risk way to screen for specific genomic conditions in a fetus using just a small sample of a pregnant mother's blood. Early detection of fetal genetic abnormalities gives families and clinicians time to prepare for the care the child may require.
References
Cancer Genetics and Genomics
Cancer, a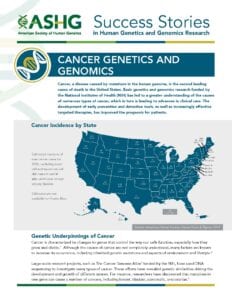 disease caused by mutations in the human genome, is the second leading cause of death in the United States. Basic genetics and genomics research funded by the National Institutes of Health (NIH) has led to a greater understanding of the causes of numerous types of cancer, which in turn is leading to advances in clinical care. The development of early prevention and detection tools, as well as increasingly effective targeted therapies, has improved the prognosis for patients.
References
DNA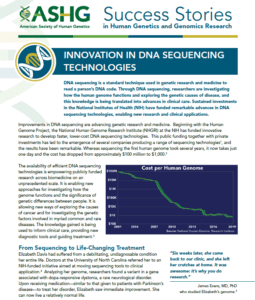 sequencing is a standard technique used in genetic research and medicine to read a person's DNA code. Through DNA sequencing, researchers are investigating how the human genome functions and exploring the genetic causes of disease, and this knowledge is being translated into advances in clinical care. Sustained investments in the National Institutes of Health (NIH) have funded remarkable advances in DNA sequencing technologies, enabling new research and clinical applications.
References
Hayden, E.C. (2014). Technology: The $1000 Genome. Nature
Manolio, T., Bult, C. , Chisholm R., et al. (2019). Genomic Medicine Year in Review: 2019. The American Journal of Human Genetics 105:6, P1072-1075.
Gavan, S., Thompson, A., Payne, K. (2018). The economic case for precision medicine. Expert review of precision medicine and drug development vol. 3,1 1-9. Ginsburg, G., Phillips, K. (2018). Precision Medicine: From Science To Value. Health Affairs (Project Hope), 37(5), 694–701.
The int
ernational biomedical research community is working at an unprecedented pace, with unparalleled progress, to understand and defeat the SARS-COV-2 pathogen.  In early 2020, researchers pivoted quickly to COVID-19 and today are generating and sharing data, treatment options, and prevention strategies with record speed and transparency. This rapid response and our ability to understand and respond to this specific virus are possible thanks to decades of basic and translational research, as well as sustained federal investment in technology and a research community that spans disciplines and sectors.
The human genetics community is contributing to solutions in three foundational ways and, even as headlines report changes in the virus, researchers are tracking those changes relentlessly and working to get a step ahead and stop its tragic impact.
References
Hayden, E.C. (2014). Technology: The $1000 Genome. Nature
https://directorsblog.nih.gov/2020/07/16/researchers-publish-encouraging-early-data-on-covid-19-vaccine/
Zost, S.J., Gilchuk, P., Chen, R.E., Case, J.B., Reidy, J.X., Trivette, A., et al. (2020). Rapid Isolation and profiling of a diverse panel of human monoclonal antibodies targeting the SARS-Cov-2 spike protein. Nature Medicine. 26(9), 1422-1427.
https://www.cdc.gov/coronavirus/2019-ncov/covid-data/investigations-discovery/hospitalization-death-by-race-ethnicity.html
Wadman, M. (2020). Flawed interferon response spurs severe illness. Science. 369(6511), 1550-1551. 

Economic Impact of Human Genetics & Genomics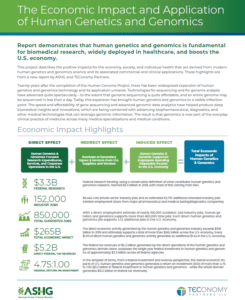 This fact sheet highlights major findings from a new ASHG commissioned report examining how human genetics and genomics is growing the U.S. economy and becoming increasingly integrated in healthcare and society.
Diversity in Genetics and Genomics Studies
It is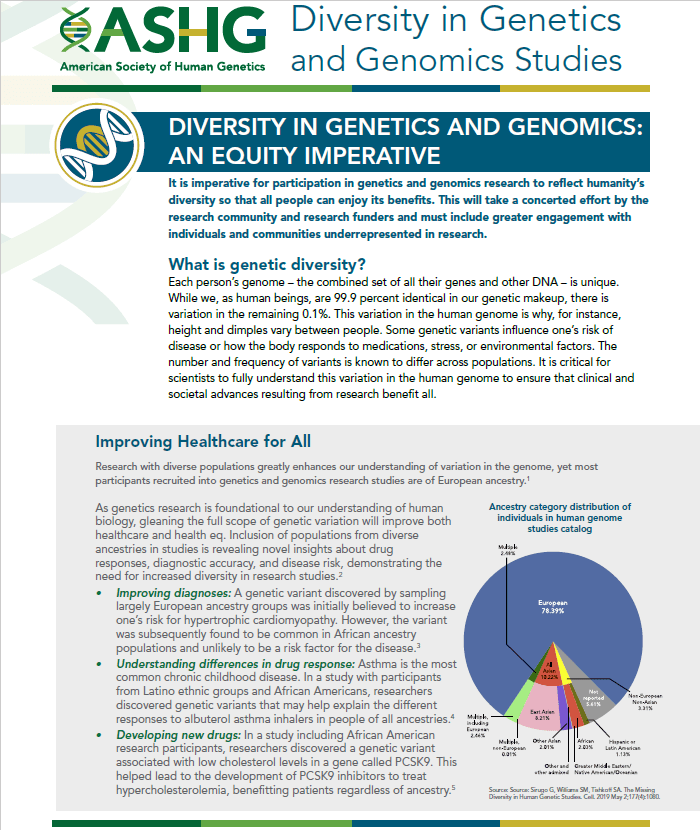 imperative for participation in genetics and genomics research to reflect humanity's diversity so that all people can enjoy its benefits. This will take a concerted effort by the research community and research funders and must include greater engagement with individuals and communities underrepresented in research.
References
Sirugo G., Williams, S.M., Tishkoff S.A. The Missing Diversity in Genetic Studies. Cell (2019).
Collins, F., Doudna, J.A., Lander, E., and Rotimi, C.N. Human Molecular Genetics and Genomics — Important Advances and Exciting Possibilities. N.Engl.J.Med (2021).
Ibid.
https://www.nhlbi.nih.gov/news/2018/genetic-study-reveals-why-asthma-inhalers-fail-minority-children
Hindorff, L.A., Bonham, V.A., Brody, L.C., et al. Prioritizing diversity in human genomics research. Nat Rev Genet (2018).
https://www.cdc.gov/coronavirus/2019-ncov/community/health-equity/racial-ethnic-disparities/index.html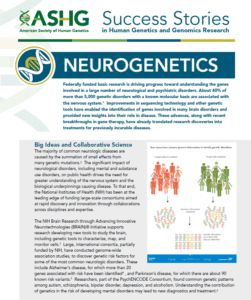 Federally funded basic research is driving progress toward understanding the genes involved in a large number of neurological and psychiatric disorders. About 40% of more than 5,000 genetic disorders with a known molecular basis are associated with the nervous system. Improvements in sequencing technology and other genetic tools have enabled the identification of genes involved in many brain disorders and provided new insights into their role in disease. These advances, along with recent breakthroughs in gene therapy, have already translated research discoveries into treatments for previously incurable diseases.
References
Zoghbi, H. Y., & Warren, S. T. (2010). Neurogenetics: advancing the "next-generation" of brain research. Neuron, 68(2), 165–173. doi: 10.1016/j.neuron.2010.10.015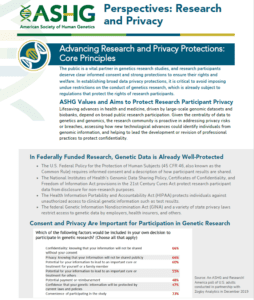 Lifesaving advances in health and medicine, driven by large-scale genomic datasets and biobanks, depend on broad public research participation. Given the centrality of data to genetics and genomics, the research community is proactive in addressing privacy risks or breaches, assessing how new technological advances could identify individuals from genomic information, and helping to lead the development or revision of professional practices to protect confidentiality.
Human Genetics & Genomics Research Across NIH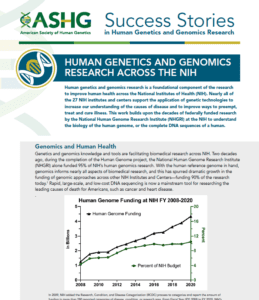 Human genetics and genomics research is a foundational component of the research to improve human health across the National Institutes of Health (NIH). Nearly all of the 27 NIH institutes and centers support the application of genetic technologies to increase our understanding of the causes of disease and to improve ways to preempt, treat and cure illness. This work builds upon the decades of federally funded research by the National Human Genome Research Institute (NHGRI) at the NIH to understand the biology of the human genome, or the complete DNA sequences of a human.
References
Green, E.D., Gunter, C., Biesecker, L.G. et al. Strategic vision for improving human health at The Forefront of Genomics. Nature 586, 683–692 (2020). https://doi.org/10.1038/s41586-020-2817-4
https://www.ninds.nih.gov/Current-Research/Research-Funded-NINDS/Translational-Research/urgent-network