By: Morteza Seifi, PhD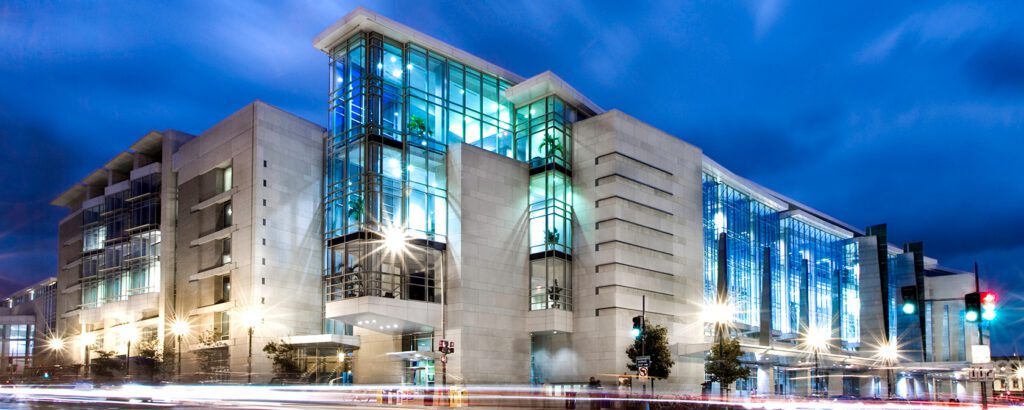 Get excited for the ASHG Annual Meeting- this year in Washington, DC! As genetics trainees attending the Annual Meeting, there is much to look forward to in this captivating city. Explore iconic landmarks like the Capitol Building and Lincoln Memorial, immerse yourself in history, and experience the vibrant array of cultures and communities. DC is not just about its past; it is a center for scientific research, housing the renowned NIH and top universities. When at the Annual Meeting, connect with leading experts, engage in cutting-edge research discussions, and expand your professional network. Nonetheless, take some time to explore the nation's capital and let Washington, DC inspire your genetics journey.
Museums that Inspire:
Museums near the Convention Center offer a rich cultural experience for ASHG attendees. Here are a few of our recommendations- all with free admission:
Smithsonian American Art Museum: Immerse yourself in American creativity with captivating pieces including art by African Americans, Latinos, early Americans, contemporary artists, and so much more

Half a mile from the convention center, hours 11:30 AM – 7:00 PM

National Portrait Gallery: Discover iconic portraits of influential figures from American history in this connected museum.

Half a mile from the convention center, hours 11:30 AM – 7:00 PM

National Museum of American History: Explore the nation's past and encounter significant artifacts such as the Star-Spangled Banner and Dorothy's ruby slippers from "The Wizard of Oz"

1.2 miles from the convention center, hours 10:00 AM – 5:30 PM
Culinary Delights:
After indulging your artistic side, satisfy your taste buds with a diverse array of dining options within walking distance or accessible by public transportation from the Convention Center. Here are some recommended restaurants, quick eats, and coffee shops:
Restaurants:
Baby Wale:  A so called "Industrial-style pub" with sandwiches and American plates, right next to the convention center
Rumi's Kitchen: Persian cuisine a quarter mile from the convention center
Tortino Restaurant: Italian cuisine offering pasta, meat, and seafood dishes half a mile from the convention center
Quick Eats and Coffee Shops:
Arepa Zone: A Venezuelan counter service cafe half a mile from the convention center
DeliZique: A breakfast and quick eats spot serving sandwiches, soups, and snacks half a mile from the convention center
Busboys and Poets: A bookstore but also a coffee shop and restaurant a third of a mile from the convention center
If you have time to travel further from the convention center, we suggest you explore Chinatown for delectable dim sum and savory noodle dishes. For a lively dining scene, head to Penn Quarter, where steakhouses, seafood establishments, and international cuisine await.
Fun Activities for Every Explorer:
Beyond museums and dining, Washington, DC offers captivating activities for ASHG attendees to enjoy during their limited free time. Take a breath of fresh air and explore the outdoor monuments and other walking recommendations:
National Mall: Take a leisurely stroll along this iconic stretch of greenery, home to remarkable landmarks such as the Washington Monument and the Lincoln Memorial
Just over a mile from the convention center
United States Capitol: Visit the Capitol and participate in guided tours to gain fascinating insights into the country's legislative process.
1.8 miles from the convention center
The Wharf: Experience waterfront charm and entertainment along the picturesque Potomac River including dining options, delightful shops, and live entertainment venues
1.8 miles from the convention center
Consider exploring these outdoor attractions and taking in the scenic beauty of Washington, DC during your downtime from the Annual Meeting.
Getting Around the City:
Getting around Washington, DC is convenient and hassle-free thanks to the city's comprehensive public transportation system. Here is how you can navigate the city and make the most of your time:
Bus Routes:
Metro System:
The nearest Metro station is just steps away from the Convention Center at Mt Vernon Sq 7th St
The Metro system connects to multiple lines, allowing you to explore different parts of the city efficiently
Metro fairs range from $2-6 or can be purchased through the unlimited pass detailed above
Airport Transportation:
To travel from the airport to the Convention Center, consider using a ride-sharing service, taxi, or the Metro system. The travel time will depend on the specific airport and traffic conditions:
Ronald Reagan Washington National Airport (airport code DCA): About 5.2 miles from the convention center and an approximately 25-minute ride by public transport
Washington Dulles International Airport (airport code IAD): About 28 miles from the convention center and over an hour ride by public transport
Baltimore/Washington International Thurgood Marshall Airport (airport code BWI): About 57 miles from the convention center and an hour and a half ride by public transport
Ensure you have the necessary information to navigate the city seamlessly and make the most of your time in Washington, DC!
While attending the ASHG Annual Meeting, take a moment to step outside and embrace the richness of Washington, DC Indulge in the city's cultural tapestry, from its renowned museums to diverse dining options and captivating activities. Whether it's a quick break or an extended exploration, seize the opportunity to savor the flavors, immerse yourself in history, and embrace the vibrant energy that makes Washington, DC an unforgettable destination. We hope to see you there!