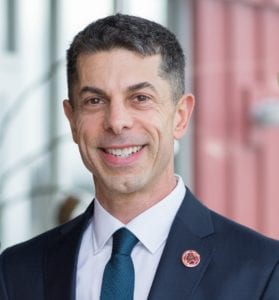 Published: Tuesday, January 14, 2020, 9:00 a.m. U.S. Eastern Time
Media Contact: Nalini Padmanabhan, 301.634.7346, press@ashg.org
Rockville, MD – The American Society of Human Genetics (ASHG) announced today that Michael J. Bamshad, MD, has been named the inaugural editor-in-chief of Human Genetics and Genomics Advances (HGG Advances), the new open access journal of the Society, which will begin accepting submissions in spring 2020. Bamshad is Chief of the Genetic Medicine Division of the Department of Pediatrics at Seattle Children's Hospital, University of Washington (UW), where he is also Director of the Center for Clinical Genomics and principal investigator the UW Center for Mendelian Genomics.
"The ASHG Board of Directors is delighted to welcome Mike Bamshad to this vital new role," said Leslie G. Biesecker, MD, PhD, ASHG 2019 president. He added, "We thank the many ASHG members who stepped forward as excellent candidates and it was an important decision. The Selection Committee was unanimous in recommending we support Mike's vision, to establish HGG Advances and over time become a leading journal in the field. That is an exciting and important vision given our innovative, diverse, and rigorous genetics and genomics research community."
"The way that human genetics research is done is rapidly changing, characterized by more collaborative, networked, and public ways of sharing data, results, and ideas," Bamshad said. "This evolution has been driven by the growing recognition that these changes have profound benefits, accelerating the pace of scientific progress and the translation of research findings to clinical practice. My overall vision is that HGG Advances will serve as both a catalyst and a platform for change that feels natural for the human genetics community to embrace."
Announced in July 2019, HGG Advances will publish across the complete spectrum of human genetics and genomics research. Its mission will be to build the human genetics and genomics knowledge base, and it will be a home for a wide range of research that meets the enduring standards of ASHG for scientific rigor, validity, and reproducibility. The journal will offer rapid review and consider direct submissions as well as offer prompt, easy cascade from the leading journal of the Society, The American Journal of Human Genetics (AJHG), for authors interested in that option. HGG Advances may also experiment with publishing and review models that speed and advance research goals. Submissions will be accepted beginning in spring 2020, with the first articles slated to be published later in the year.
Bamshad noted that his vision also prioritizes greater diversity and inclusion, which are critical components of the strategic plan of the Society.
"HGG Advances should strive from its inception to strongly promote inclusivity and equity in all facets of its operations and including its editorial board, content submitters, and reviewers, and thereby serve as a model of the philosophy and operations of the next generation of scientific publishers in general," he said.
Bamshad earned his bachelor's degree in biology and chemistry and his medical degree from the University of Missouri at Kansas City, as well as a master's degree in in Biology and Anthropological Genetics from the University of Kansas. He conducted his internship and residency at the University of Utah, where he then held progressively senior roles in pediatric genetics and medicine. In 2005, he joined the faculty of University of Washington as a Professor.
Bamshad has served on the editorial boards of AJHG and the American Journal of Medical Genetics, and has reviewed for dozens of leading genetics publications. His research scholarship and clinical practice interests are wide-ranging, and he has been principal investigator, co-investigator, and mentor on dozens of grants funded from multiple National Institutes of Health institutes and centers, as well as author on 300 published papers. With Lynn Jorde, PhD, and John C. Carey, MD, MPH, Bamshad is coauthor of Medical Genetics, now in its sixth edition, and he speaks widely on topics ranging from Mendelian genetic conditions to questions of culture, genomics, and history.
Bruce Korf, MD, PhD, a member of the selection committee and editor-in-chief of AJHG, played an important role in the decision to launch HGG Advances as a complementary sibling publication to AJHG.
"We welcome HGG Advances as the Society creates a vibrant family of journals publishing across human genetics and genomics research," Korf said. "Under Mike's leadership, we are confident that HGG Advances will maintain the commitment to excellence and rigor for which the Society is known. It will also be a new platform and open access model where the Society, and the field can experiment with emerging publishing strategies and bring a new and broad range of voices to advance genetics and genomics research."
About the American Society of Human Genetics (ASHG)
Founded in 1948, the American Society of Human Genetics is the primary professional membership organization for human genetics specialists worldwide. Its nearly 8,000 members include researchers, academicians, clinicians, laboratory practice professionals, genetic counselors, nurses, and others with an interest in human genetics. The Society serves scientists, health professionals, and the public by providing forums to: (1) share research results through the ASHG Annual Meeting and in its journals; (2) advance genetic research by advocating for research support; (3) educate current and future genetics professionals, health care providers, advocates, policymakers, educators, students, and the public about all aspects of human genetics; and (4) promote genetic services and support responsible social and scientific policies. For more information, visit: www.ashg.org.
6120 Executive Blvd, Suite 500 | Rockville, MD 20852 | 301.634.7300 | society@ashg.org | www.ashg.org
Connect with ASHG on Twitter (@GeneticsSociety) | Facebook | LinkedIn