By Carrie Morin, ASHG Director, Membership & Industry Engagement Membership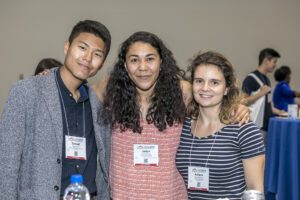 ASHG is committed to the vision that people everywhere realize the benefits of human genetics and genomics research, and members like you are at the forefront of making this a reality.
To fulfill that vision, the Society makes a critical investment in providing valuable resources and tools to members like you and ASHG has launched a new wave of benefits to continue supporting this important work.
As a current member, you already know you have access to a host of benefits such as, digital programs on emerging science, accessible fact sheets for advocacy and public outreach, the Society's journals AJHG and HGGA, our online member community, ASHG Connect, and so much more.
Check out ASHG's new and expanding benefits:
ASHG is your partner in not only pushing forward the mission to advance human genetics and genomics but also serving as your professional home. Making these enhancements to the member experience is critical to ensuring we continue to keep our pulse of the needs of our members to better support them as they work to achieve their own professional goals.