By Carrie Morin, CEM, Director, Membership and Industry Engagement and Kanika Pulliam, PhD, Director, Career Programs and Workforce Diversity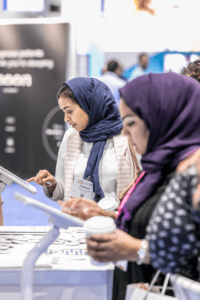 ASHG's Annual Meeting is the premier event for professionals in genetics and genomics worldwide. The meeting is like a microcosm of the Society as a whole: a community participating in the latest discoveries, new technology and industry-led education, networking, skill-building, and so much more. Many of these aspects translate smoothly to the virtual environment, but networking and industry collaboration have proven difficult.
To make sure meeting attendees get the very best experience from this year's annual meeting, ASHG is hosting this new virtual pre-meeting series as a chance to provide programming on professional development, networking opportunities, and industry advances without having to juggle through the rush of the meeting schedule. Over the course of October 12 to 14, you can expect to attend sessions catered towards advancing your professional growth while hearing the latest developments from industry thought leaders and new providers on a range of critical genetics topics and products.
The Career Development Committee (CDC) has organized a day devoted to all things professional development, no matter what stage in your career you are in. From organized sessions, to networking, to one-on-one career development advice, the events offer many opportunities to grow toward your professional goals.
For the first time, ASHG is offering networking opportunities that cross over with industry topics and scientists. Not only is there a lot of interest in industry careers, but there is an opportunity to collaborate between these two important segments within the field.
"We engage with the academic collaborators all the time, and I think it's actually absolutely essential to do that. There's equally good science on both sides, and I actually find genetics and genomics to be a unique area where it's important and perhaps easier to bridge as opposed to other areas of science and medicine," says Swaroop Aradhya, PhD, FACMG and Head of Global Medical Affairs at Invitae.
Day 1 – Tuesday, October 12
On the first day of this forum, attend a networking event to perfect your elevator pitch where professionals in different career fields have been invited to provide advice on your elevator speech. The Behind-the-Scenes: Publications Workshop will feature editors from leading publications like AJHG, Human Genetics and Genomics Advances, and Cell who will provide tips on publishing a scientific paper. There is also a session where you can learn how to get a postdoctoral position or fill a postdoctoral position as an advisor.
Beyond these three sessions on day one, there will be many other opportunities to hone your skills and form a community with your peers. Sign up for a slot with a career counselor who will review your CV/resume and provide tips to make your resume stand out. Then, attend the Diversity Luncheon to engage with a community of your peers who are interested in increasing equity and diversity in genetics research.
Day 2 – Wednesday, October 13
Day two is devoted to current concepts and future directions from leading genomics companies 10X Genomics, QIAGEN, and ThermoFisher Scientific plus genetics disease company BioMarin Pharmaceuticals.
There is also a Careers in Industry & Biotech session with panelists from Amazon Web Services, 10X Genomics, Miroculus, and Regeneron. CDC members Emily Davenport and Saumya Sisoudiya say that attendees will "hear expert advice on what skills will be most in-demand for this career track in the next few years. This session will help you develop your own career roadmap for the course of your training and beyond to optimize your chances of getting hired."
Positions in industry are especially in demand as more PhD job seekers enter the field. Alicia Zhou, Chief Science Officer at Color says, "I think in industry, the superpower that we have is that we often have access to different resources than what you had in academia, whether that's access to large populations because they are our customers or they are people who we've interacted with, or access to certain types of funding that we have now that we didn't used to have. We do have a different set of resources that we can draw from, so ultimately you can make research happen much faster if you bring in both sides and be able to sort of collaborate on where you can complement one another."
Day 3 – Thursday, October 14
The final day of the forum will showcase the very latest technology from new companies powering your next great discovery in spatial biology, single cell sequencing, and digital PCR solutions from Nanostring Technologies, Parse Biosciences, and Stilla Technologies. There's an additional interactive networking session with mentors from industry where you can perfect your elevator pitch! People from all sectors of the genetics field will be there to give you the chance to network broadly and practice tweaking an elevator pitch customized to your audience.
All sessions will be available on demand the week of October 18th as well, but all meeting attendees are encouraged to join these sessions live to make the most of these special sessions to network, learn about the latest industry technologies in the field, and increase your professional development skills!