By Lyly Luhachack, PhD, Policy & Advocacy Specialist
Professional Practice and Social Implications Committee (PPSI) Co-chairs Kyle Brothers, MD, PhD, and Sarah Tishkoff, PhD, recently organized a session titled, "Polygenic Risk Scores: Uses and Misuses in Health, Research, and Society." They held the session on February 10, 2021, part of the American Association for the Advancement of Science (AAAS) 2021 Annual Meeting, to build scientific community dialog on the promising use of polygenic scores (PS) with considerations for ethical and societal impacts. The PPSI leads the Society's efforts to provide guidance to the community on the responsible and equitable application of genetics and genomics research. Consistent with that perspective, the session focused on current issues with the use of polygenic scores in research and their potential application for research and society.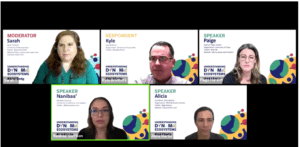 Using Polygenic Scores for Equity in Children's Academic and Social Development: Kathryn Paige Harden, PhD, University of Texas at Austin, Austin TX
Dr. Harden discussed how data on students' background characteristics, genetic and environmental, can be useful for advancing equity goals. Genetic information, in conjunction with other data such as socioeconomic factors, can help identify contexts that narrow or widen inequities in educational outcomes and address inequities via interventions that preferentially benefit at-risk students. However, PS should not be used for individual tracking and selection in education due to limitations such as ancestry study biases.
Polygenic Scores for the World: Current Applications, Limitations, and Promise: Alicia Martin, PhD, Broad Institute, Boston, MA
Dr. Martin further explored how large-scale genetic studies that are Eurocentric impact the generalizability of knowledge in healthcare. About 80% of participants in genetic studies are of European descent which does not reflect the diversity of the world population. Studies have shown that PS derived from Eurocentric studies are less accurate across other ancestry groups. This presents an ethical problem in ensuring that genetics can improve health outcomes equitably in clinical areas such as cardiovascular diseases and cancer. Furthermore, the lack of diversity in genetic studies hinders progress in scientific discoveries. Addressing gaps in methodology, community resources, and research capacity will help facilitate population genetic studies towards health equity.
Polygenic Scores in Context: Ethical, Social, and Cultural Implications: Nanibaa' Garrison, PhD, University of California, Los Angeles, Los Angeles, CA
Building on the conversation, Dr. Garrison discussed PS within the context of ethical, social, and cultural dynamics at play and the concerns Indigenous communities and other underrepresented groups have about research participation. Dr. Garrison outlined a framework for ethical research to foster strong collaborations between researchers, research participants, and community members. Community engagement should incorporate cultural competency, transparency, capacity building, and dissemination of findings throughout the research process.
Registrants of the AAAS 2021 Annual Meeting can now view a recording of the session in its entirety. To continue the dialog, the Society is planning on a Guidance that will delve further into the responsible application of PS. ASHG will continue to serve as a forum and resource for members and the community in examining and addressing ethical issues within genetics and genomics research.