Published: Wednesday, July 20, 2022, 10:00 a.m. U.S. Eastern Time
Media Contact: Kara Flynn, 202.257.8424, press@ashg.org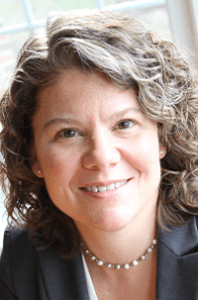 ROCKVILLE, MD – The American Society of Human Genetics (ASHG) has named Heidi Rehm, PhD, FACMG, as the 2022 recipient of the Curt Stern Award. Dr. Rehm is director of the Genomic Medicine Unit and chief genomics officer in the Center for Genomic Medicine and Department of Medicine at Massachusetts General Hospital, co-director of Medical and Population Genetics at the Broad Institute, and professor of pathology at Harvard Medical School.
This annual award, which includes a plaque and a $10,000 award, is named for the late pioneering geneticist Curt Stern, PhD, and recognizes genetics and genomics researchers who have made significant scientific contributions during the past decade.
"Dr. Heidi Rehm is an exemplary scientist who is a leader in the application of genomics to clinical medicine," said ASHG President Charles Rotimi, PhD. "She is a genome giant who is also a strong advocate and pioneer of open science and data sharing. We are honored to present her with the Curt Stern Award for her dedicated efforts to conducting research in human genetics."
In her nomination letter, Nicola Whiffin, PhD, Group Leader, and Sir Henry Dale Fellow at University of Oxford in the United Kingdom, stated: "Dr. Rehm has dedicated much of her career to rigorous and consistent clinical variant interpretation. Her remarkable commitment to open data and data sharing has shifted the attitude of the entire clinical genetics community. Not only is she an outstanding scientist with an incredible list of achievements which have had a true worldwide impact, but she is also a supportive mentor, an incredible advocate of early career researchers, and a considerate collaborator."
Dr. Rehm's accomplishments and the positions she has held are numerous, which is indicative of her qualifications for an award that requires recipients to make significant scientific contributions in the last decade. These positions include past chief laboratory director at the Mass General Brigham Laboratory for Molecular Medicine and medical director of the Broad Institute's clinical lab where she has innovated in genetic and genomic testing for clinical and research use; a Principal Investigator of the Clinical Genome Resource, which provides expert curated resources to support the interpretation of genes and variants, co-director of the Broad Center for Mendelian Genomics and the Matchmaker Exchange  advancing gene discovery for rare diseases; co-chair of the Gene Curation Coalition, harmonizing and making gene-disease resources openly accessible; vice chair of the Global Alliance for Genomics and Health, where she supports the development of standards and frameworks for global data sharing in genomics and health. She also sits on various boards and serves as editor or associate editor to multiple scientific journals, including the American Journal of Human Genetics. Additionally, she is the senior author of the American College of Medical Genetics and Genomics (ACMG) guidelines that are the consensus global standards for clinical variant interpretation.
Dr. Rehm received her B.A. in molecular biology and biochemistry from Middlebury College, M.S. in biomedical science from Harvard Medical School and PhD in genetics from Harvard University, working with Cynthia Morton, PhD. She completed her post-doctoral training with David Corey, PhD, in neurobiology and a fellowship in clinical molecular genetics at Harvard Medical School.
ASHG will recognize this year's award winners in the weeks prior to the Society's annual meeting with a series of videos honoring their accomplishments. These videos will also be presented during the meeting, which will be held in Los Angeles on October 25-29.
* * *
About the American Society of Human Genetics (ASHG)
Founded in 1948, the American Society of Human Genetics is the primary professional membership organization for human genetics specialists worldwide. Its nearly 8,000 members include researchers, academicians, clinicians, laboratory practice professionals, genetic counselors, nurses, and others with an interest in human genetics. The Society serves scientists, health professionals, and the public by providing forums to: (1) share research results through the ASHG Annual Meeting and in The American Journal of Human Genetics and Human Genetics and Genomics Advances; (2) advance genetic research by advocating for research support; (3) educate current and future genetics professionals, health care providers, advocates, policymakers, educators, students, and the public about all aspects of human genetics; and (4) promote genetic services and support responsible social and scientific policies. For more information, visit: http://www.ashg.org.
6120 Executive Blvd, Suite 500 | Rockville, MD 20852 | 301.634.7300 | society@ashg.org | www.ashg.org
Connect with ASHG on Twitter (@GeneticsSociety) | Facebook | LinkedIn