Posted By: HGG Advances
Each month, the editors of Human Genetics and Genomics Advances interview an early-career researcher who has published work in the journal. This month we check in with Nelson Ugwu (@_NelsonUgwu) to discuss his paper, "Cutaneous and hepatic vascular lesions due to a recurrent somatic GJA4 mutation reveal a pathway for vascular malformation."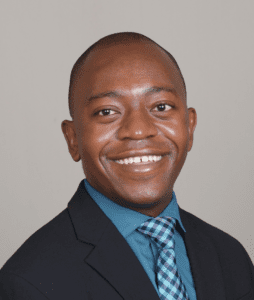 HGGA: What motivated you to start working on this project?  
NU: Despite being first described over 100 years ago, mutations underlying hepatic hemangiomas (HHs) had not been identified. Mutations associated with cutaneous venous malformations (CVMs) have been found, but a significant proportion still have no genetic explanation. We also found it curious that HHs and CVMs shared similar histologic features, so we wondered whether both arise from mutations in functionally similar genes or alterations in a shared pathway.
HGGA: What about this paper/project most excites you? 
NU:  Several aspects of the paper were exciting. We identified the same mutation in both HHs and CVMs indicating that they are the same lesion type. It is possible that cavernous lesions in other organs, including the brain, may also share the same mutation. I was thrilled that we identified a drug compound which reverses changes associated with the mutation because the most definitive treatment, so far, for HHs has been surgical excision. It was satisfying to identify a mutation in clinical cases using bioinformatics, evaluate it with molecular experiments and propose a noninvasive therapeutic candidate in the same paper.
HGGA: What do hope is the impact of this work for the human genetics community? 
NU: I hope the SGK1-Cx37 pathway we identified paves the way for new discoveries in vascular biology and venous malformations. I also hope our work encourages researchers to pursue their scientific convictions beyond established pathways when a new finding doesn't fit into them.
HGGA: What are some of the biggest challenges you've faced as a young scientist? 
NU: The COVID-19 pandemic significantly hindered my work in the lab, as I know it did for so many others. I was fortunate to have supportive mentors, friends, and family who I was able to lean on for support. Another challenge I've faced is keeping up with the latest methods in bioinformatics and molecular biology given the speed of discovery in both fields. They complement each other and I think knowing more about one helps you do better at the other. It's a challenge that I enjoy, and one I think is worth taking on.
HGGA:  And for fun, what is one of the most fascinating things in genetics you've learned about in the past year or so?
NU: I recently learned about how metabolites produced by cancer cells can inhibit homology directed DNA repair by interfering with the lysine demethylase KDM4B. It's a fascinating discovery that adds another layer of complexity to the pathobiology of cancer but also provides novel opportunity for therapeutic intervention.