Current Engagement Resources and Activities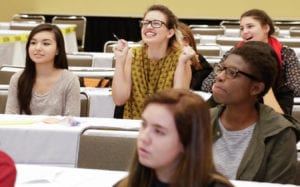 ASHG is committed to serving as an ongoing source of learning and engagement for the community. We continue to offer science engagement and education for the science-interested public and our members, including the following resources and information:
GENE Network – Join the GENE Network and indicate that you can offer virtual support. Set up a video call with your local science teachers and classes to demonstrate at-home experiments or do a 'Question and Answer'.

Upcoming Twitter Chat: On July 7, ASHG will host its first Twitter Chat on "Genetics and Genomics Resources: How to Manage and Store your Data". Join members from trainee to full professor to discuss bioinformatics, genomic data, privacy, ethics, and more! Follow along on July 7 from 2 – 3 PM Eastern using #ASHGtalksData.
Chromosome Facts – Congratulations to Chromosome 18! Through the month of April, ASHG shared a Twitter post each day about the human chromosomes. Our Twitter followers then had the chance to vote for their favorite chromosome. Chromosome 18 claimed the title. Use the bracket to play in your community.
Genetics at Home – Use this curated list of easy and informative at-home activities with your family, students, or GENE Network connections.
ASHG Webinar – Did you miss one of our webinars? ASHG records and shares our webinars after they are initially shown. Check out one of our webinars focused on engagement content: Engaging Your Community around Genetics and Take Initiative: DNA Day Engagement and You. In addition, check out Using Social Media as a Scientist to get insight into reaching audiences across platforms.
Get to Know Our Members – ASHG highlights members who are involved in education and engagement in each issue of the Engage newsletter. Conversations cover their most memorable moments as students, their advice, and more! Read the conversations we've had with Maurice Godfrey, Kate Garber, and John P. Doucet.
DNA Day Essay Contest and Fact Sheet – In celebration of DNA Day on April 25, ASHG announced the winners of the 2020 DNA Day Essay Contest! Participants received a fact sheet about DTC ancestry testing – this year's question topic. Find out who won and read all winners' and honorable mentions' essays on our results page.
Reddit Discussion Panel – Reddit Science and ASHG teamed up to host a discussion about how animals can help us to understand different aspects of human biology. Read through the discussion now.
Engaging with Media – One way to connect with your community is through the media. Write an opinion piece, correct incorrect information, or suggest a story to your local paper. Want to connect with a larger audience? Write for Scientific American, Slate, or The Conversation.  Sign up for SciLine (AAAS) or Request a Woman in STEMM to be a resource for journalists who want to connect with experts. Webinars such as "How the Mass Media Cover Health, Science, and the Environment—and What You Can Do to Help" (UMN) and "Responding to COVID-19: Opportunities for all researchers to engage" (Society Civic Science Initiative) give more detail.
Please refer back to this page as we add resources.